Fireworks safety: how to celebrate safely
As Fourth of July celebrations begin, many families might be considering celebrating the holiday with at-home fireworks. They are a tradition after all!
Are fireworks safe?
Although fireworks look beautiful, they can also cause serious burn and eye injuries in kids and adults. The safest approach to fireworks is to leave them to professionals. Watch firework displays from a safe distance away.
For those who still plan to set off fireworks at home, establishing a perimeter is important to keep children safely at a distance. Matches, lighters, and fireworks should be kept out of reach of children. Only a responsible adult should light fireworks.
Sparklers can seem harmless, but they can burn at over 1,200 degrees – they're hot! Supervise children closely if they are holding sparklers. Teach them to keep sparklers away from their faces, clothes, and hair, and only use them outdoors. Give children glowsticks instead of sparklers to prevent potential injuries.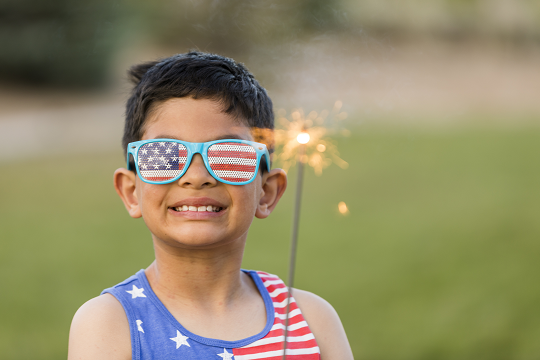 Safe ways to celebrate the Fourth of July
There are many ways to celebrate the Fourth of July that don't involve fireworks. You can try out some art projects at home or even science experiments. These activities allow you to keep your kids safe without sacrificing any of the fun. Here are some ideas:
What to do if an injury happens
If your child is injured by a firework, immediately go to a hospital or call 9-1-1 in the case of an emergency.
Kaitlyn Kamleiter