Children's Minnesota employee resource groups host panel discussion about the COVID-19 vaccine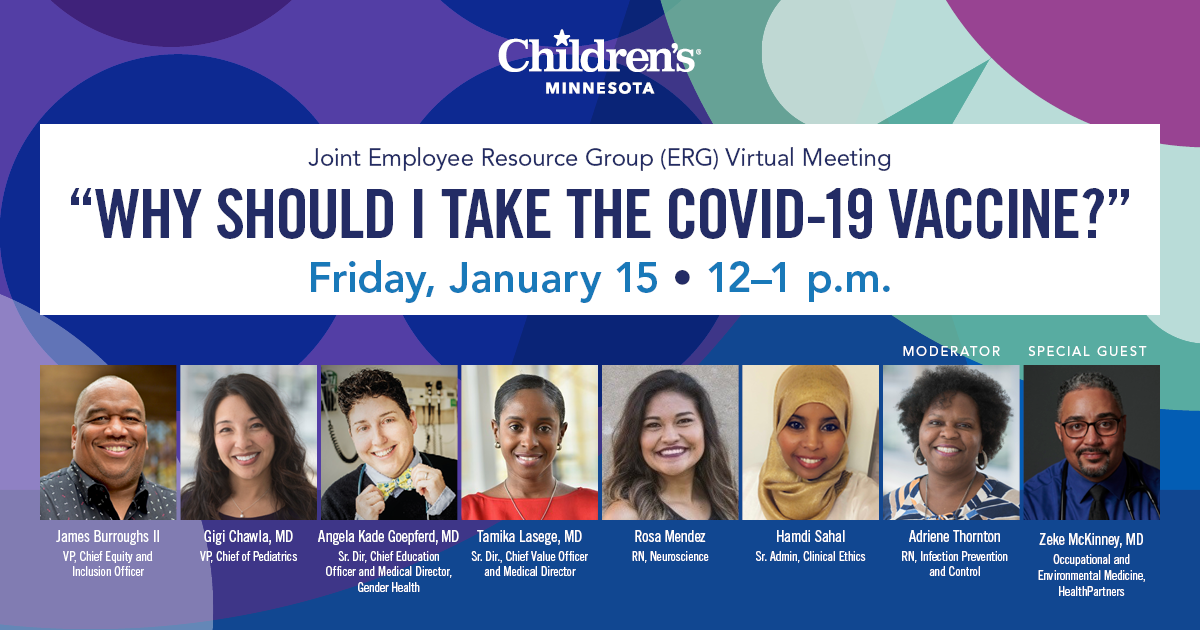 On Friday, Jan. 15, more than 120 Children's Minnesota employees logged into the first virtual joint employee resource group (ERG) meeting of 2021. During this meeting titled "Why should I take the COVID-19 vaccine?" employees heard directly from Children's Minnesota leaders in each of the six employee resource groups: Asian ERG, Black Employee Empowerment Network (B.E.E.N.), Muslim ERG, Nurses of Color ERG, PRIDE ERG and Voces ERG.
Panelists spoke on the history of medical mistrust in communities of color, shared personal stories as to why they will take the vaccine, and provided science-based information to help individuals make an informed decision on whether or not to take the COVID-19 vaccine.
This was not your typical COVID-19 vaccine webinar. It was a candid, grounded-in-facts, led-by-science conversation from leaders of Children's Minnesota and a special guest from HealthPartners. Moderator, Adriene Thornton, RN, infection preventionist at Children's Minnesota, led the conversation and made sure each panelist had the opportunity to give input on topics including risk vs. benefit analysis; importance of diversity in clinical trials; and the value of protecting ourselves, our families, and our community against COVID-19.
Many thanks to our Children's Minnesota panelists and special guest, Zeke McKinney, MD, occupational and environmental medicine, of HealthPartners:
James Burroughs II, vice president, chief equity and inclusion officer.
Gigi Chawla, vice president, chief of general pediatrics.
Angela Kade Geopferd, senior director, chief education officer and medical director of the gender health program.
Tamika Lasege, senior director chief value officer and medical director.
Rosa Mendez, RN, neuroscience.
Adriene Thornton, RN, infection preventionist.
Hamdi Sahal, senior administrator, clinical ethics.
Kaitlyn Kamleiter