April is National Donate Life Month
In April, Children's Minnesota is recognizing National Donate Life Month. This is a month we celebrate, recognize, honor and thank all those involved.
During April, Children's Minnesota will:
Celebrate those who have received transplants.
Recognize those who continue to wait for one.
Honor donors and donor families.
Thank registered donors for giving hope.
"More than 100,000 men, women and children are waiting for lifesaving organ transplants," according to Donate Life America. "Every 10 minutes, another person is added to the national transplant waiting list."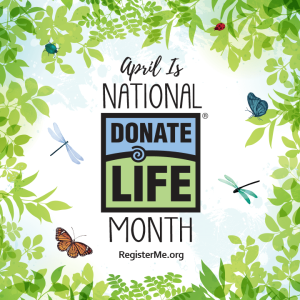 National Blue & Green Day: April 16, 2021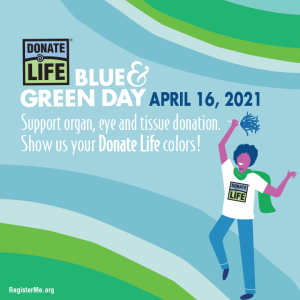 Friday, April 16, 2021, is National Blue & Green Day! During this day, the community and Children's Minnesota staff are encouraged to wear blue and green in an effort to promote organ, eye and tissue transplantation and the extreme need for registered donors.
How does my donation help others?
You have the power to help. Here's how just one person can impact others:
If you donated your organs, you would be able to save up to 8 lives.
Through eye donation, you would be able to restore sight for up to 2 lives. Eye donation can also impact the vision of 8 more people through scleral donations to help in prosthetic eye placements and ocular shunts.
You would be able to heal up to 75 lives through tissue donation.
Children's Minnesota and Donate Life Month
Children's Minnesota supports the gifts of organ, eye and tissue donation. In addition to operating a dedicated pediatric heart transplant program, Children's Minnesota provides cardiac care to the majority of pediatric cardiovascular patients in the region. When needed, our cardiovascular patients benefit from the donated heart valves and other cardiac tissue we receive.
Many of us know someone who has benefited from the generous gift of donation. And we all have the power to give back and help those in our community by registering to be an organ, eye and tissue donor.
Register to be a donor
Registering is easy! You can complete the process when you apply for or new your driver's license or state ID, or you can even sign up online. Be sure to document your decision and talk it through with your family.
Frequently asked questions
You can find a complete list of frequently asked questions about donation and transplantation from Donate Life America here — download this PDF.
Alexandra Rothstein