Passion for music and healing people: our music therapists' perfect combination
Listening to and playing music is something we do for any mood – when we're sad, when we're happy, when we want to relax, when we want to dance, sing. Music is good for the soul.
And, music therapy researchers are continuing to add to the body of evidence that suggests the power of music can also have significant benefits to patients and their families in clinical settings.
Hear from Erinn Frees, MA, MT-BC, board-certified music therapist at Children's Minnesota, about the importance of incorporating music into the healing process of our patients and families.
Music therapy sessions
Babies, kids and teens don't need to have a musical background in order to benefit from music therapy. Also, each patient will benefit from this differently based on their unique goals. "We design all of our treatment plans to meet the specific needs of each patient, so it's very individualized," said Erinn. "We always use patient-preferred music in our sessions too, as this has been shown to create maximum engagement in the music therapy process."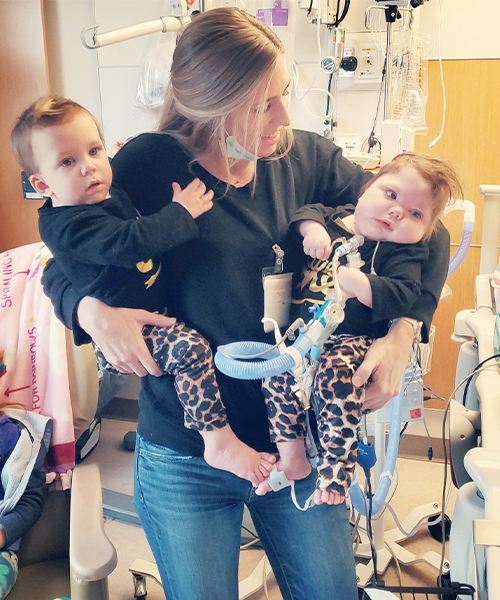 Music therapists work with patients and families of all ages and abilities, from sedated to active, in order to reach their goals. A patient's goals could be physical, cognitive, emotional, or social.
"We use a strengths-based approach and work to have every patient and family as actively involved in their music therapy session as possible," Erinn said. "This means you may see a baby kicking at wind chimes to learn cause and effect or hear a child writing their own song to process their emotional experience of receiving a life-altering diagnosis."
Benefits of music therapy
There are many benefits of music therapy for patients of all ages in the hospital.
Pain management.
Physical rehabilitation.
Anxiety reduction.
Self-expression.
Family support.
Relaxation.
Normal growth and development.
Opportunities for choice and control.
Positive change in mood and emotional states.
Learning coping skills and techniques.
Positive physiological changes.
Stress reduction.
What a casual onlooker may see:
A child strumming a ukulele or a baby reaching for wind chimes.
What a music therapist sees:
A child working on their fine motor skills and finger strength, reducing their pain by concentrating on an alternate stimulus, improving their mood by doing a pleasurable activity and/or learning a long-term coping skill that can be used outside of music therapy sessions.
In the end, humans are inherently musical and rhythmic. "There is a large body of evidence that shows people respond in predictable and significant ways to music therapy interventions," describes Erinn.
And Erinn is so glad to be a music therapist spending her days doing her two favorite things.
"I became a music therapist because it was a way to combine a passion for music with a passion for helping people," said Erinn. "I have so many moments that I'll never forget, especially ones where I can see that the music created that 'breakthrough moment' – something that wouldn't have happened otherwise."
Music therapy at Children's Minnesota
Our music therapists are trained at a bachelor's or master's degree level and have completed a supervised, clinical internship using music therapy. Practicing music therapists are required to obtain and maintain certification (MT-BC) through the Certification Board for Music Therapists.
Alexandra Rothstein