Congratulations to our 2021 Medical Education Nurse Teaching Award recipients
The Medical Education Nurse Teaching Award recognizes a nurse on each campus for their work to enhance the education of Children's Minnesota's medical resident and medical student teams. Recipients are awarded based on resident nomination, and typically celebrated in the spring during Nurses Week.
Xuan Sundstrom, Children's Minnesota St. Paul
Xuan Sundstrom, BSN, RN, is a clinical nurse on the 5th floor neuroscience unit.
Xuan was recognized as a great advocate for patients, a wonderful teacher for residents and an all-around phenomenal colleague.
Xuan brings a wealth of experience and incredible gift for working with families during challenging times. Residents shared how Xuan handles difficult situations so gracefully, and, "is amazing with all her patients and families."
Deb Young, Children's Minnesota Minneapolis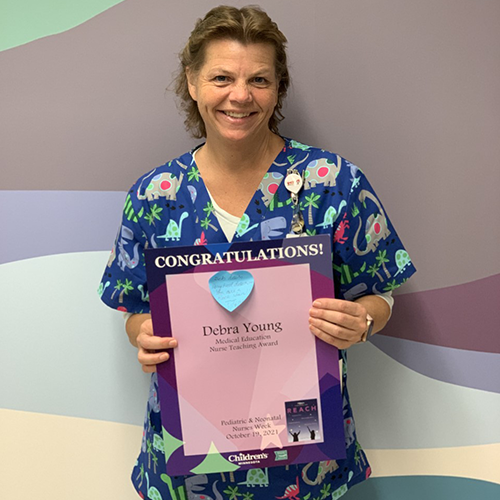 Deb Young, MSN, RN, is a clinical nurse on the 6th floor in Minneapolis.
Deb was recognized for her ability to communicate clearly with the care team and provide education to learners regarding elements of complex care.
Residents shared how Deb consistently goes "above and beyond" for her patients and prepares thoughtfully for transitions of care so issues do not occur. One resident shared, "She taught me about tube feeds and tracheostomy care, and really helped with measurements for a complex patient so we could advance feeds."
Thank you and congratulations to Xuan, Deb and our amazing teams for their commitment to educating the next generation of pediatricians!
Alexandra Rothstein