Children's Minnesota appoints Andy Pugh as chief legal officer
MINNEAPOLIS/ST. PAUL (April 13, 2022) – Children's Minnesota is pleased to announce the appointment of Andy Pugh as senior vice president, chief legal officer, effective April 16, 2022. In this role, Pugh will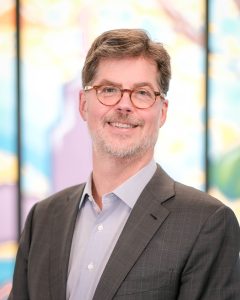 oversee legal services, risk management, compliance and information security at one of the largest pediatric health care systems in the country. Pugh succeeds Maria Christu, who recently announced her retirement.
"I am delighted that Andy has accepted the role of chief legal officer at Children's Minnesota", said Maria Christu, chief legal officer and senior vice president of advocacy and health policy. "Andy has the perfect combination of legal knowledge and experience, collaborative approach and passion for the Children's Minnesota mission, and will be amazing."
Since 2011, Pugh has served as deputy general counsel at Children's Minnesota. In that role, he oversaw the legal department and served as primary legal support in key areas such as health care transactions and tax-exempt compliance. He also provided direct legal support to a number of departments and functions across the organization. He also has a deep commitment to equity and inclusion and has served as a member of Children's Health Equity Council. Prior to joining Children's Minnesota, Pugh worked in private practice and served as the deputy general counsel at Allina Health.  He earned his juris doctorate from Mitchell Hamline School of Law and a bachelor's degree from Arizona State University.
"In the search for a new chief legal officer, there was a clear consensus that Andy is the right person for this very important role that is crucial to our mission to champion the health needs of all kids," said Dr. Marc Gorelick, president and CEO of Children's Minnesota. "I am excited to welcome Andy to the executive leadership team."
About Children's Minnesota
Children's Minnesota is one of the largest pediatric health systems in the United States and the only health system in Minnesota to provide care exclusively to children, from before birth through young adulthood. An independent and not-for-profit system since 1924, Children's Minnesota is one system serving kids throughout the Upper Midwest at two free-standing hospitals, nine primary care clinics, multiple specialty clinics and seven rehabilitation sites. As The Kids ExpertsTM in our region, Children's Minnesota is regularly ranked by U.S. News & World Report as a top children's hospital.
Find us on Facebook @childrensminnesota or on Twitter and Instagram @childrensmn. Please visit childrensMN.org.
###
Cole Heath