Children's Minnesota in the News
Minnesota Wild forward Ryan Hartman donates more than $30,000 to Children's Minnesota
Today, the Minnesota Wild, with the help of team mascot Nordy, presented Children's Minnesota with a check for more than $30,000 from forward Ryan Hartman. Hartman's generous gesture follows a fine from the NHL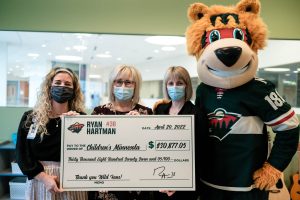 for Unsportsmanlike Conduct during an on-ice dust-up in a game against the Edmonton Oilers on April 12. Hartman told fans he'd cover the cost of his fine, and give the fans' donations to Children's Minnesota. Fans donated a total of $26,637.05 to Hartman via his Venmo account in less than three days. Hartman donated $4,250 of his own money (the amount of the NHL fine), and fans also donated an additional $9,000 directly to Children's Minnesota.
"We are so grateful for our partnership with the Minnesota Wild, they've been a generous donor for a long time. Moments like this also show the generosity of the Minnesota sports community, and we're incredibly grateful to the fans for donating to Children's Minnesota," said Jenny Soderholm, senior vice president and chief development officer at Children's Minnesota, and president of the Children's Minnesota Foundation. "We never turn a child away – ever. As a nonprofit health system, we rely on the generosity of our community through donations to help the kid experts at Children's Minnesota provide the life-saving expertise, research and technology kids and families deserve."
A massive viral moment
Since the news of Hartman's fine and viral fundraiser broke the week of April 12, 2022, it spread like wildfire throughout the media and online. At last check on April 20, nearly 200 media outlets nationwide have covered this story – from New York to Hawaii and of course, Minnesota – and it has generated more than 1.17 billion potential impressions online and counting.
Cole Heath