Ultrasound tech shares her Children's Minnesota career experience
At Children's Minnesota, we believe children always come first. They are awesomely resilient. Eternally optimistic. Totally fearless. They are what we want to be when we grow up.
Jenny Miller, ultrasound technologist, has been working at Children's Minnesota helping kids for six years now. She's sharing all her favorite things about her career below.
What's your position and how long have you been at Children's Minnesota?
"Ultrasound technologist, six years."
Tell us why you like your job and position.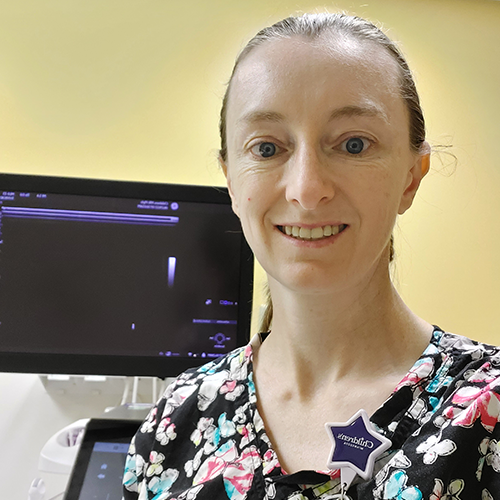 "I've always been intrigued by the human body and it's fascinating to be able to see inside it every day. I love the variety here. We perform a wide range of exams on babies through young adults. Working with kids can be both challenging and rewarding."
What do you like about working in this field/department?
"The ultrasound team is a great group to work with here. Everyone takes a collaborative approach and is willing to help each other out."
Why do you like working at Children's Minnesota?
"I enjoy working at Children's [Minnesota] because I am part of a team that provides outstanding care for children. It is easy to collaborate with nurses and doctors here. It is rewarding when I can put a child at ease for an exam and help make their visit more enjoyable."
Join the team!
Children's Minnesota is seeking qualified candidates to join our medical imaging department. Our radiology and diagnostic services offer patients the newest tools and techniques to find out exactly what's going on inside kids' bodies when they're sick or hurt.
View our open positions:
Children's Minnesota performs more than 100,000 imaging procedures every year, using tools such as X-rays, MRIs, CT scans and nuclear medicine to pinpoint a child's diagnosis. We also work hard to keep pain and stress to a minimum and make the experience as fun as possible. Learn more about these open positions.
Alexandra Rothstein