Health Professional News, Mighty Blog
Health care equity includes hair care
No parent wants their child to be admitted to the hospital. However, if they are, families deserve the best expert care available. Unfortunately, that is often not the experience for minority families. Historically, Black patients have experienced disparities across the spectrum of health care, even when it comes to the most basic of patient needs – hair care. That's why a team of nurses at Children's Minnesota set out to address the issue and improve hair care for children in the hospital with textured hair.
The issue of caring for kids with a variety of hair textures and curl patterns had been brought up by patient families. Staff did what they could to address the need, however there was no formal training or system to stock the appropriate products. With the widespread support of Children's Minnesota leaders, Courtney Kenefick, DNP, APRN, and Heidi Shafland, APRN, CNS, began the project in the fall of 2020 by assessing the knowledge gap.
"We asked our fellow nurses if they were taught in nursing school about how to care for different textures of hair. We also asked nursing schools what they teach when it comes to hair care," described Heidi.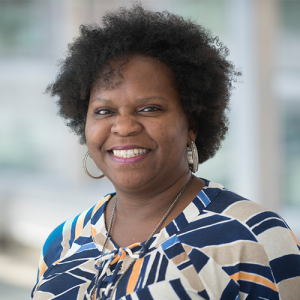 Courtney and Heidi also conducted a literature review and found many nurses and providers simply were never taught how to provide culturally sensitive hair care.
In addition to fellow nurses, the team also sought the expertise of Adriene Thornton, manager of health equity, who encouraged them to seek input from patient families and other departments.
"Our hair instills a sense of pride. But unfortunately, most Black women and girls experience some form of discrimination just because of their hair. We knew we had to do better for our patients and their families," said Adriene.
According to the CROWN research study, more than 50% of Black mothers say their daughters faced discrimination because of their hair when they were just 5 years old.
Identifying products and education
Finding the right hair care products and getting them stocked in the hospitals was not as easy as going to the nearby store and picking them up. Because it's a health care setting, Courtney and Heidi needed to consider if the product would cause other skin issues or potentially an infection. They partnered with several departments to identify the appropriate products, including teams from equity and inclusion, infection prevention, wound care and supply chain.
Once the evidence-based and culturally-appropriate products were stocked, it was time to educate staff on how to use them and understand why it's important to know how to care for the hair of our diverse patients.
"Understanding the unique needs of all our patients helps health care workers build trust, which ultimately results in better care. There are medical issues related to inappropriate hair management, such as alopecia, broken hair shafts and seborrheic dermatitis. So, we need to care for hair properly," said Courtney.
The team began by making the rounds to different units to talk about the newly available products and handed out tip sheets. They also produced a training video for bedside staff that consisted of three components:
Discussion from a family about their experience with hair and scalp maintenance while their child was in the hospital.
Hands-on demonstration for hair maintenance.
Role-play-style introduction for how to discuss hair maintenance while children are in the hospital.
After initially being promoted during unit meetings and on company communications, such as email, the training video was integrated into orientation for new nurses in early 2022. The response from staff and families has been overwhelmingly positive.
"By providing our diverse patient families with culturally appropriate hair care is another step to more equitable health care. The work isn't over yet, but this proves we can make progress," said Adriene.
Nick Petersen