Lead CT tech shares his

career experience at Children's Minnesota
At Children's Minnesota, we believe children always come first. They are awesomely resilient. Eternally optimistic. Totally fearless. They are what we want to be when we grow up. 
Jake Madson, lead CT tech, will be sharing his career experience at Children's Minnesota below.  
Tell us why you like your job and position.
"I love working with kids!" 
What do you like about working in this field/department?
"Radiology is critical to diagnosing important diseases and conditions, and I enjoy learning more about the human body through medical imaging."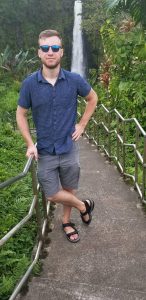 Why do you like working at Children's Minnesota?
"My brother came into Children's about 15 years ago. He received fantastic patient care, and the staff was friendly and approachable. I love Children's Minnesota because they still hold true to these statements to this day and continue to strive for excellence." 
Join the team!
Children's Minnesota is seeking qualified candidates to join our team! 
View our open positions: 
Mai Songsawatwong