Employee highlight: Shukri Jumale, Midwest Fetal Care Center program manager
June 28-30, 2023, is Eid al-Adha – a significant holiday celebrated by Muslims around the world. Known as the "Feast of Sacrifice," Eid al-Adha commemorates the sacrifice of the prophet Abraham, and is a time for prayer, sharing meals, gifts and wishing one another well.  
In honor of Eid al-Adha, we are excited to highlight Children's Minnesota kid expert and member of our Muslim Employee Resource Group (MERG), Shukri Jumale, Midwest Fetal Care Center program manager, to learn more about her role, involvement with MERG and how she's celebrating Eid al-Adha this year.  
Tell us about your role
"I am the Midwest Fetal Care Center program manager, and I work in collaboration with our Allina [Health] partners to care for families with complex fetal diagnosis in pregnancies. We see families right as they get a frightening diagnosis in an otherwise normal pregnancy. Our team provides multidisciplinary care under one roof. We bring all the Children's Minnesota experts to meet with families prenatally so that they can make well-informed decisions on fetal procedures and postnatal care at Children's Minnesota. I have been in this role for about one year."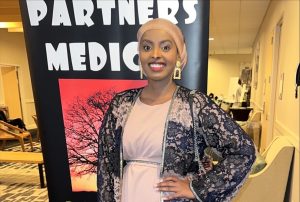 What do you love most about your job?
"I love the innovative nature of my work. On any given week, our team performs life-altering procedures on fetuses that will impact their lives for years to come. We have the only fetal center in the Midwest and only one of nine centers in North America that perform the same surgery. I also love that we provide care to the whole family; not only are we giving blood transfusions and operating on fetuses, but we also provide coordinated care and resources for families needing to relocate so their time spent with us is more meaningful."
Why did you decide to join MERG?
"Being newer to Children's Minnesota, I was looking for a diverse space where I could share my culture, experience and learn about others. With MERG, I found a group of dedicated people who really live the Children's Minnesota values and take every opportunity to give back to the community. In the last year, I have been able to volunteer at an elementary school, help coordinate a Ramadan Iftar dinner, plan an upcoming Eid al-Adha celebration, and witness the launch of the culturally appropriate patient gowns. I am very impressed with the work of the MERG and the vision of the leadership team."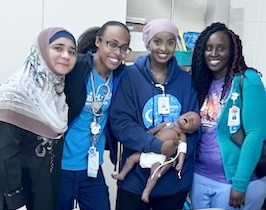 Do you have a favorite memory with MERG? 
"This year's Ramadan Iftar dinner was an amazing experience; getting to sit and break fast with patient families, community leaders, staff and leaders from all over Children's Minnesota was incredible. I was very much in awe of just how much my colleagues and MERG members worked to make the dinner possible. By the time everyone was at the event, it looked effortless, but I know the amount of hard work and coordinating it took to make the event the success it was. Community members told me how impressed they were months later."
How are you celebrating Eid al-Adha this year?
"For me, Eid al-Adha is about being grateful for the sacrifices my family and friends have made all year and is celebrated with a feast for all who have made a difference in our lives. As a family, we spend the 10 days leading up to Eid al-Adha fasting, praying and increasing our good deeds by volunteering. On the day of Eid, we go to morning prayer and enjoy a big breakfast afterward. The day ends with a family cookout and presents for all the kids – this is typical for most families I know."
Alexandra Rothstein