Learn about our Community Connect program from Jessica Perez Acevedo, resource navigator
At Children's Minnesota, we believe every child deserves a happy and healthy childhood. We also know that 80% of a child's health happens outside our walls where they live, learn and play.  
In order to be every family's essential partner in raising healthier children, we are committed to working inside and outside our walls to improve the health of all children we serve.  
In 2017, we launched Community Connect, a program which helps connect patient families in our Minneapolis and St. Paul primary care clinics to existing community resources, like food pantries and benefit programs, transportation services, legal assistance, housing support and more.  
To highlight our Community Connect program, we are excited to introduce you to Jessica Perez Acevedo, Community Connect resource navigator, to learn more about her role, the impact of Community Connect and her firsthand experience with the program that led her to where she is today.  
Get to know Jessica! 
Tell us about your role
I am a resource navigator at the Children's Minnesota Minneapolis primary care clinic and assist families with finding the resources they need. Whether they are Spanish-speaking, English-speaking or any family, I help as much as I can with their needs. I have worked at Children's Minnesota for about eight months and I hope to work here for many years to come.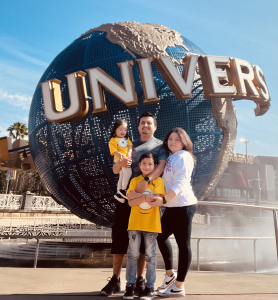 What inspired you to work at Children's Minnesota?
It all started a couple years ago while my son was a patient at Children's Minnesota. I heard about the Community Connect program and approached them at the Minneapolis primary care clinic. I was going through a tough time with my son and I decided to speak with a resource navigator for help. At first, it was difficult for me to ask for help because I was raised in an environment where I needed to solve my own problems and not involve others. I was also a very shy person. My Community Connect resource navigator, Estibaliz (who is now my co-worker and friend), helped me find legal resources, GED assistance, clothing and food for my baby. Esti encouraged me to pursue my GED, and with help and support from her and my family, I was able to get my GED and close that chapter in my life.  
A few years later, I received a call from Esti and she told me about an open resource navigator position. I was a bit skeptical about applying for the position; I didn't believe in myself at first. But thanks to the support from Esti and my family, I took a leap of faith and applied for the position. I still remember the day I received a call from my manager, Zuzi, that I was the candidate for the position. After my final interview, Zuzi called me again to congratulate me on getting the job.  
From the first day meeting Esti in Community Connect, to now working for the program, is what inspired me – and still inspires me – to work at Children's Minnesota. The help I received back then, and now being able to help families, is a true inspiration in itself.   
Can you tell us more about the Community Connect program and how it makes an impact for patients and families?  
Community Connect is a program that bonds families. Our resources are simple, such as providing information about food pantries, referrals for food stamps, connecting families with legal assistance, approachable resources for income, housing support, education and more. We always aim to make it easy for families and are patient with them when they are ready to receive assistance. There is more help involved in our everyday practice, which is why our connections with families last more than just a few weeks. Since the Community Connect program started six years ago, we help more than 2,000 families each year, and I was one of them back in 2019.  
What do you love most about your job?
Helping others is the best feeling. When I help a parent or a young kid and they say, "Hey, thank you!" there's a feeling in my heart that I'm not just doing a job but rather fulfilling a purpose. I love to help every family as much as possible by finding them the resources they need and going above and beyond to ask them how their day is going. Knowing that I can help someone and make a difference in their life is truly fulfilling. 
Outside of your job, what activities do you enjoy?
The activities I enjoy outside of my job are going on vacation with my family, seeing new places and spending time with my two kids. I love taking my kids to Disneyland and seeing their smiles and joy. Other activities I enjoy are going to the movie theater or just being at home with my kids. Basically, anything I do with my kids are things I enjoy outside of work. Also, getting a day to myself where I can get my nails done is something I truly enjoy.
Alexandra Rothstein