Respiratory Care Scholarship recipient lands respiratory therapist role
Set your goals, make your plans and chase your dreams! At Children's Minnesota, we're proud to help our employees do just that. In spring 2022, we launched the Respiratory Care Scholarship program for employees interested in growing their career and becoming respiratory therapists (RT). While working with the wonderful team in the Minneapolis Welcome Center for a little over a year, Miranda Weakley, certified respiratory therapist, saw the scholarship opportunity and took advantage. 
"I wanted to become a respiratory therapist because I knew I wanted to be involved at the bedside and have a specialized focus of care," Miranda shared. "Everyone needs to breathe so I knew being able to directly impact and manage treatment in patients who are acute or chronic would be really rewarding." 
Miranda's respiratory therapy program was intense, both mentally and physically; balancing six-hour lectures a few days per week and clinic rotations on the other days was no small feat! "Having this scholarship took a huge financial burden off of me," Miranda explained. "It helped me focus on excelling in the program and becoming the best therapist I could be, as well as allowing me to focus on the two board exams new grads are required to pass to practice."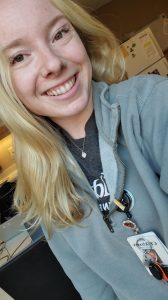 For the last year of schooling, she took on an intern role at Children's Minnesota and learned how to navigate the world of pediatrics. She shadowed pediatric intensive care unit (PICU) RTs who shared their knowledge, experiences and advice for new grad RTs, setting the stage for an exciting transition. Miranda took a full-time position as an RT at Children's Minnesota a few months before graduating! She is now training in the PICU after performing general care for a few months as a new grad and an intern. She looks forward to learning how to manage different disease processes on a ventilator and developing critical thinking skills in an ICU setting. 
"This is such an amazing field to get into whether this is your first career or a change of career paths. You make a difference every day and are a vital part of the multidisciplinary team caring for patients," said Miranda. "At Children's Minnesota you make connections not just with the patient, but also with the families and they remember you and your impact so that has also been really special."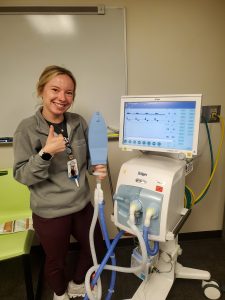 Congratulations, Miranda! Children's Minnesota is proud to invest in our kid experts and their bright futures. 
About the scholarship
The Respiratory Care Scholarship is part of Children's Minnesota's strategic plan to help develop the next generation of RTs who have a passion for working with neonates and pediatric patients. 
Children's Minnesota employees who have been employed for at least six months are eligible to apply and receive a scholarship in partnership with St. Paul College. It is a two-year program and successful graduates will receive an Associate of Applied Science (AAS) degree in respiratory therapy. As part of the application process, employees are asked to submit a resume, an essay, letters of recommendation and participate in an interview process. Six scholarships are awarded annually. Applications are accepted on a rolling basis, so employees are invited to apply at any time. 
Mai Songsawatwong