Hispanic Heritage Month: One employee shares what it means to her
Hispanic Heritage Month is recognized each year from Sept. 15-Oct. 15 to celebrate the histories, cultures and contributions of those who came to whose ancestors came from Spain, Mexico, the Caribbean, and Central and South America.  
In honor of Hispanic Heritage Month, we spoke with Wendy Zúñiga, pharmacy coordinator and co-chair of the Voces employee resource group (ERG) at Children's Minnesota, to learn more about her role, involvement with Voces and what Hispanic Heritage Month means to her.
Get to know Wendy!
Tell us about your role and what you love the most about it.
I have worked at Children's Minnesota for a total of seven years; three years in my current role as pharmacy coordinator. I love supporting and organizing celebrations for my team. They work really hard to get our patients the medications they need in a timely and safe manner. Our team takes their job very seriously and that is special because we care for some of the most vulnerable populations – kids.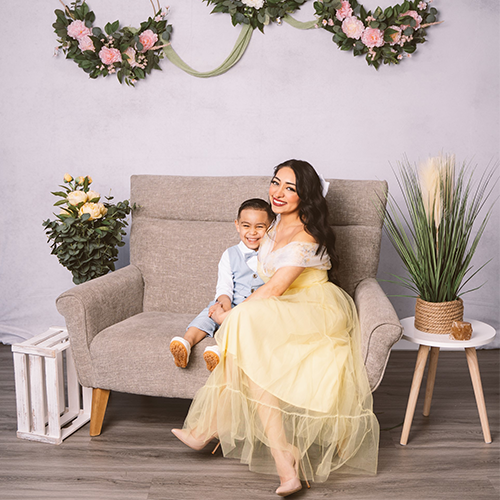 Why did you decide to be part of the Voces ERG?
I decided to join the Voces ERG because I love community engagement and the Latino non-profit space. I also thought it would be a great opportunity to collaborate with like-minded individuals who love our rich culture, want to give back and are growth minded. 
What does Hispanic Heritage Month mean to you?
Hispanic Heritage Month is a month to intentionally celebrate and learn the immense significance and multifaceted contributions of Latino Americans. The celebration of Hispanic Heritage Month also coincides with the national Independence Day of several Latin American countries including Guatemala, Honduras, El Salvador, Nicaragua, Costa Rica, Belize, Chile and, of course, my beloved Mexico. And as typical as it may sound, we love a good party, loud music and lots of tasty food. 
How are you celebrating Hispanic Heritage Month this year?
We celebrated by volunteering at CLUES' annual Fiesta Latina. At home, I will be reading to my little guy about Latino culture and Latino icons as I want him to use his culture as a source of strength and confidence.  
What do you think makes kids amazing?
I don't think I can pin it down to one thing. But my top qualities that make kids are amazing are: 
They live in the moment. They don't worry about the past or the future, unless it's bedtime. 

 

They get excited! They find the mundane to be magnificent and they are not shy about it.

 

They're determined. For example, how many times has your child called your name to get your attention? Like I said, they're determined.

 

They don't discriminate. They genuinely want to play with all kids no matter what ethnicity. 

 
Alexandra Rothstein