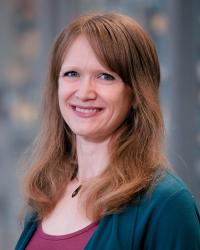 Dinel Allison Pond, MS CGC
Genetic Counselor
(612) 813-7240
Specialties: Genetics/Genomics | Genetics, Counseling
Professional History
Board Certification
Genetic Counselor - American Board of Genetic Counseling

Professional Education
MS - University of Wisconsin Madison
Madison, WI
2001

Contact Information
Primary Location:
Childrens Minnesota Genetics
2545 Chicago Ave S STE 700
Minneapolis, MN 55404
(612) 813-7240

Secondary Location(s):
Childrens Minnesota Neurocutaneous Syndromes
2530 Chicago AVE S STE 560
Minneapolis, MN 55404
(612) 813-7240

Childrens Minnesota Genetics
345 N Smith Ave STE 61-245
St Paul, MN 55102
(612)813-7240

Personal Biography
Dinel Pond is a Genetic Counselor at Children's Hospitals and Clinics of Minnesota. She graduated from the University of Wisconsin-Madison Genetic Counseling Program with a Master of Science degree in Medical Genetics. Dinel began her career with the Genetics department at Children's Memorial Hospital (now Lurie Children's Hospital) in Chicago. She joined Children's Minnesota in 2005. As part of the Genetics program, she works in the Neurocutaneous Syndromes clinic and the Cancer and Blood Disorders clinic to evaluate and counsel children and families with known or suspected genetic disorders. She also educates medical students, residents, and health care providers in the community about neurocutaneous and genetic conditions and is a clinical supervisor for Genetic Counseling graduate students from the University of Minnesota.