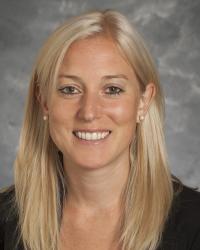 Maureen Anne Gergen, LP PhD
Psychologist
(612) 813-7888
Specialties: Psychology, Child
Professional History
Professional Education
PhD - University of Nebraska - Lincoln
Lincoln, NE
2015

Residency/Fellowship
Fellowship - Johns Hopkins University School of Medicine
Baltimore, MD

Fellowship - Minnesota Epilepsy Group, PA
St Paul, MN

Contact Information
Primary Location:
Childrens Minnesota Pain and Palliative Care
2525 Chicago AVE S STE 32-T5
Minneapolis, MN 55404
(612)813-7888

Personal Biography
Maureen Gergen, PhD, LP, is a licensed pediatric psychologist in the Department of Pain Medicine, Palliative Care, and Integrative Medicine since February 2020. She earned her Bachelor's Degree from the University of St. Thomas, Master's Degree from the University of Northern Iowa, and PhD in School Psychology from the University of Nebraska-Lincoln. She completed her pediatric psychology internship and first-year fellowship at the Kennedy Krieger Institute and Johns Hopkins University School of Medicine in Baltimore, MD. She then pursued a second-year fellowship with the Minnesota Epilepsy Group PA and Children's Minnesota to further specialize in working with diagnostically complex pediatric patients within a medical setting. Dr. Gergen primarily sees patients referred for pain management and utilizes cognitive-behavioral interventions and mind-body techniques. Her areas of interest include addressing the needs of children and adolescents with chronic pain and related conditions, inpatient consultation-liaison, interdisciplinary collaboration, and applied research.