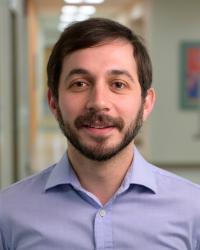 Lane Harrison Miller, MD
Physician
(612) 813-5940
Specialties: Hematology and Oncology, Pediatric
Professional History
Board Certification
Hematology and Oncology, Pediatric - American Board of Pediatrics

Pediatrics - American Board of Pediatrics

Medical Education
MD - Medical College of Georgia
Augusta, GA
2012

Residency/Fellowship
Residency - Oregon Health Sciences University Department of Pediatrics
Portland, OR
2015

Fellowship - Emory University
Atlanta, GA
2018

Contact Information
Primary Location:
Childrens Minnesota Hematology Oncology
2530 Chicago Ave S CSC 175
Minneapolis, MN 55404
(612)813-5940

Personal Biography
Lane Miller, MD, MSc, obtained a medical degree from the Medical College of Georgia in Augusta, GA, completed a residency in general pediatrics at Oregon Health & Sciences University in Portland, OR, and completed a fellowship in pediatric hematology/oncology/BMT and obtained a masters degree in clinical research at Emory University in Atlanta, GA. He is a specialist in childhood leukemia and lymphoma with particular interests in supportive care, treatment-related toxicity, and novel therapeutics for de novo and relapsed disease. He is additionally engaged in clinical research with active projects involving pulmonary complications in acute myeloid leukemia, the effects of hospital volume on childhood acute myeloid leukemia outcomes, and the use of natural language processing in obtaining adverse event data from electronic health records. He has published manuscripts regarding approaches to supportive care in leukemia, acute lymphoblastic and myeloid leukemia management and germline mutations in the bone marrow microenvironment. Outside of the hospital, he is an active musician, cyclist, backpacker, and gardener.