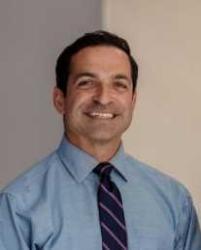 Meysam Ali Kebriaei, MD
Physician
(651) 220-5230
Specialties: Neurosurgery, Pediatric
Fluent Languages: Farsi
Professional History
Board Certification
Neurological Surgery - American Board of Neurological Surgery

Neurosurgery, Pediatric - American Board of Pediatric Neurological Surgery

Medical Education
MD - University of Nebraska Medical Center
Omaha, NE
2006

Residency/Fellowship
Residency - University of Nebraska Medical Center
Omaha, NE

Fellowship - Children's Healthcare of Atlanta
Atlanta, GA

Contact Information
Primary Location:
Childrens Minnesota Pediatric Neurosurgery
345 N Smith AVE STE 70-302
St Paul, MN 55102
(651) 220-5230

Secondary Location(s):
Childrens Minnesota Concussion Clinic
345 N Smith Ave STE 302
St Paul, MN 55102
(651) 220-5230

Personal Biography
Dr. Kebriaei is a fellowship trained pediatric neurosurgeon at Children's of Minnesota. He is board certified through the board of American Association of Neurological Surgeons as well as American Board of Pediatric Neurological Surgeons. He received his Bachelor of Science degree from University of Minnesota -Twin Cities. Dr. Kebriaei attended medical school at the University of Nebraska Medical Center and completed his neurosurgery residency at the University of Nebraska Medical Center. He completed his fellowship in pediatric neurosurgery at Emory University. Dr. Kebriaei was inducted into the prestigious Alpha Omega Alpha medical honor society while a Chief Resident at the University of Nebraska. He has published several peer reviewed articles and continues to be involved in ongoing research projects. Dr. Kebriaei was selected by his peers as a top doctor/rising star in Minneapolis/St. Paul Magazine in 2015, 2016, 2017, 2018, and 2019. Dr. Kebriaei's interests include epilepsy surgery, brain and spinal cord tumors; vascular malformations of the brain and spine; cerebral vascular surgery; minimally invasive spine and pediatric spine surgery with and without instrumentation; congenital anomalies of brain and spine; hydrocephalus, congenital and post hemorrhagic; endoscopic surgery; Chiari malformation; craniosynostosis; perinatal consultation; traumatic brain and spine surgery; as well as spinal dysraphism. Dr. Kebriaei enjoys the privilege of building a relationship with his patients and their families and taking care of his patients. In his spare time, Dr. Kebriaei loves spending time with his wife and kids and being outdoors.