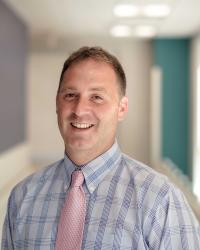 Kyle Gregory Halvorson, MD
Physician
(651) 220-5230
Specialties: Neurosurgery, Pediatric
Professional History
Board Certification
Neurosurgery - American Board of Neurological Surgery

Medical Education
MD - Creighton University School of Medicine
Omaha, NE
2010

Residency/Fellowship
Residency - Duke University School of Medicine
Durham, NC

Fellowship - University of Utah School of Medicine
Salt Lake City, UT

Contact Information
Primary Location:
Childrens Minnesota Neurosurgery
347 N Smith AVE STE 301
St Paul, MN 55102
(651) 220-5230

Secondary Location(s):
Childrens Minnesota Pediatric Neurosurgery
2525 Chicago Ave S
Minneapolis, MN 55404
(651)220-5230

Children's Minnesota Neurosurgery Clinic
6060 Clearwater Dr STE 204
Minnetonka, MN 55343
(651)220-5230

Children's Minnesota Stroke Clinic
347 N Smith Ave STE 302
St Paul, MN 55102
(651)220-6705

Personal Biography
Dr. Kyle Halvorson, a pediatric neurosurgeon at Children's Minnesota, sees patients at the neurosurgery clinic in both St. Paul and Minneapolis. Along with other specialists as part of a multidisciplinary team, Dr. Halvorson also sees patients as part of the Level 4 pediatric epilepsy center, the cleft and craniofacial program, the Level I pediatric trauma center, and neuro-oncology program. As a father to twin boys, he treats his patients with the same care as he would his own family. At 12-years-old, a child in Dr. Halvorson's family was diagnosed with a brain tumor and treated at Children's Minnesota. The excellent as well as compassionate care she received throughout her illness has always served as Dr. Halvorson's role-model of what a doctor-patient relationship should entail. After sharing in this family experience, Dr. Halvorson understands the emotional, mental, and physical challenges a family goes through when caring for a very sick loved one. Dr. Halvorson considers Children's Minnesota his second home and is deeply passionate about being a positive part of a child's care through the worst times – and the best times. Dr. Halvorson has trained with several of the leaders in pediatric neurosurgery as well as at exemplary neurosurgery programs in the county. He has advanced training in complex spine surgery, though maintains broad neurosurgical interests. Some of these include brain and spinal cord tumors; vascular malformations of the brain and spine; cerebral vascular surgery; minimally invasive spine and pediatric spine surgery with and without instrumentation; congenital anomalies of brain and spine; hydrocephalus, congenital and post hemorrhagic; endoscopic surgery; Chiari malformation; craniosynostosis; epilepsy surgery; stroke; perinatal consultation; traumatic brain and spine surgery; as well as spinal dysraphism.