Hemophilia: Robyn, Xavier and Dominic's story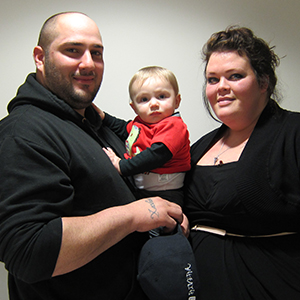 About this episode
Mother reflects on her son's difficult birth and diagnosis. Father shares his dreams for his son, both parents share support for one another as they embark on this journey.
Topics:
Pregnancy/birth experience
Bleeding episodes
Family support
Resilience: future
Robyn: I mean it's been really tough. The first 24 hours having Dominic was the best thing in the world. We were on cloud nine. We had so many people come and visit. There were so many people waiting to see him. They came in 24 hours after he was born. They do a test on him for hearing and just everything. I'm woke up by the doctor coming in letting me know that my son was going to be taken to Children's via the ambulance, because he had a bleed and that he would have to have a blood transfusion. They had him under the lights and there was a bunch of nurses. The doctor's in there. It was surreal. Because I had had a C-section, I couldn't go. So, I watched my mom and him walk out. [crying]. But Xavier is my rock. He didn't show any emotion. He was there. He was amazing. My sister came and stayed with me that night. No amount of pain pills or sleeping pills could help. The diagnosis was that he had a subgaleal hematoma, where he had a bleed between the skin and his skull. It was not on his brain, which was a godsend, until four months later. He was running a fever again. He was inconsolable. During that time a couple of his colleagues or coworkers came in and we were talking and he threw up all over again. I was holding him over the bathroom sink, and Xavier looked at me and said 'we're taking him right now.' Everything came back, and the ER doctor came in and said has he been doing x,y, and z. He pretty much came and told us that his hemoglobin was really low and the only way it would be that low is if he was bleeding. Since he wasn't bleeding on the outside, bleeding internally or he was really sick and the virus was just eating away at his cells.
Then they told us because his hemoglobin was so low that they were not equipped for any of this, so they were going to air lift us to Mankato. We got in. We were seen, and his hand, his right hand, started ticking. The next thing you know poor Dominic had something right up his butt. I was like 'what's going on?' It was a seizure, and they were giving him some medication that would go straight to him. They did the CT scan and three people came back, and I knew it wasn't good. They showed us the picture of the dot. It was just a big dot. I was like 'what is that?' He said there was no way of telling. There was already an ambulance. I was like flash backs. He said it could possibly be, if it was a tumor, I mean cancerous, that we wouldn't know. That's why we were going to Children's and we would be taken care of. In my position, I was very upset and about 20 minutes after that I was told by the ER doctor that I would be seeing a doctor soon and that they were going to be doing tests. I'd heard about hemophiliacs and I remember using that word and I can't remember if it was you or Karney that was like 'no, no, no he has hemophilia.' I was just like 'oh.' I think it was you. You were like 'hemophiliacs isn't a nice word.' He has hemophilia he's not a hemophiliac. so it was a surprise because later we found out that it was something that runs in the family. There has been no history of it anywhere. It was a shock.
Susan (nurse): What I remember from those first days was how on top of it you were in terms of engaging him and having him sit up. The two of you, DAD you and Mom, have been really able to rise to every situation and continue to parent Dominic.
Robyn: I'm a wreck. I ain't going to lie. I have the smarts. I know what I'm doing, but at the end of the day I'm mush. If I didn't have DAD as a rock I don't know where I'd be. They weren't lying when they said coming to Children's we would be taken care of. You guys were amazing. The things that I remember being up in the picu and then in the epilepsy unit, you guys were on top of everything. Any questions I had you were there. The documentation you guys gave us, everything, showing us how to administer, showing us what to do, what the next step was going to be, where we were going to go from there. Seeing you guys all the time it wasn't like okay this is your son I'm here to treat him. It was the first thing you guys said was 'welcome to the family.' He makes it easy because no matter what he smiles through everything he has been through.
Susan: It's amazing.
Robyn: It is. It is really amazing.
Susan: It's infectious.
Robyn: It is. I know daddy had a lot of dreams for him. A lot of dreams, that I don't want to say were smashed, but they are not lost, but there are a lot of things that now Dominic can't do. He can do whatever he wants in my eyes, but there are some things that he will have to slow down on. I don't know. I want him to know that we are here to back him no matter what he wants to do. We want to teach him. My dream is that he knows how to take care of himself, that he finds a job that he is happy in that is fulfilling and that he knows that just because of his…I call it an
Susan: I want them to be able to take care of themselves and be independent as you said and learn how to manage things and stay healthy and thrive and head off into life and do what all the other kids do.
Robyn: I can't wait for the future. Do you know what I mean? Possibilities are endless, so it makes me feel good knowing that he is in good hands. I can remember in the hospital after we found out about the brain bleed and it was Dr. Messinger all the time and he came in and said 'well you know it comes from the mother.' It broke me, because you feel 'oh my god! What did I do?' Again, I could go on about that but Xavier was the one that was 'no stop. We deal with it.' You know what I mean? Stop! This isn't a pity party for Mom. This is what it is…
Xavier: I've always told her what my father always told me. Why dwell on something you can't change? Look up to it, stand up to it, and fight it. That's the only thing we can do in life. You dwell on something too much you're just breaking yourself down.
Robyn: So, baby, what do you want for Dom?
Xavier: I just want him to be happy is all. That's right. I don't over think things. I just deal with them. I'm a problem solver I deal with it. I just want him to be alright. That's all.
Robyn: Thank you. You've been a godsend. Like I said everybody at Children's, the social workers… the amount of knowledge and every aspect of dealing with this, fighting this is amazing.
We wish to extend our thanks to the families who have shared their story here about the impact of living with hemophilia and sickle cell disease. We would also like to thank the many who worked on this project:
The Children's Minnesota StoryCorps Legacy Team:
Eddie Gonzalez, Jocelyn Bessette Gorlin, Susan Kearney, Stephen Nelson, Margaret Heisel-Kurth, Stephanie Davis, Angela Blue, Elizabeth McDonough, Jill Swenson and Alisa Linne.
Special thanks to:
Stephanie Moua, Hamdi Hussein, Sadia Farah, Fatima Ali, Caillyn Costello, Suzanne Lehman, Suzan Ulrich, D'Ann Urbaniak Lesch, Justin Nelson, Allison Albright, Marvin Holmes-Leopold, Jose Rodriguez and Mitch Hare.
Minneapolis Institute for Production and Recording:
Jose Rodriguez and Mitch Hare.