Sickle cell disease: Justin, Hawa and JJ's story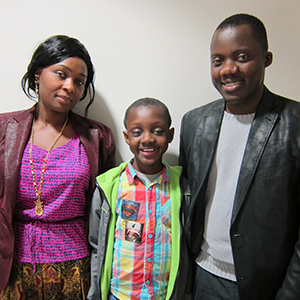 About this episode
Husband and wife Justin and Hawa work together to care for their son JJ, who was diagnosed with sickle cell and undergoes a bone marrow transplant. Throughout their journey, they place faith in their religion and maintain hope.
Topics covered:
Support
Treatment: Medical experiences
Resilience: Faith
Justin: So JJ was born July 16, 2006, and we did ask the medical authorities to test for possible sickle cell disease, because both of us has caught the sickle cell trait. So when Dr. Nelson called us that afternoon with the results, At that time, when we got the lab results, we were very downhearted, and I remember that Mom was crying on the phone while the results were being given to her. And after that, we prayed, and we took courage, and we started this long journey of helping our son to recover.
Hawa: I think I remember when I went to go do my hair, to my friend who are talking with me, and he started crying because we were in the house, but the house was so cold, no heat. So he start crying, crying, and when I look, and I took him and brought him outside, his whole hand was sweat up. So I called JJ and I said, 'Oh, JJ, he whole hand getting sweaty, so I don't know what's going on.' So we took him to the clinic, and they do the test, they say yeah, it's the sickle cell. The first reaction ever, so that when it start.
Justin: So then we went into the emergency that evening, and they told us, well, this was his first sickle cell crisis. So he had sweaty hands and feet. After that, he was put on penicillin for infection prevention, and so we have been educated as to his symptoms, and when he has fever of 100, we should be able to take him in to the emergency as soon as possible, because, according to the doctors, such fever is not just fever; it might be other related sickle cell issues.
Hawa: I was not feeling good, because… a lot of pain with JJ, a treatment, everything were not good, leaving work and taking care of him, so the best solution to it is to do the bone marrow transplant, so and see whether we will have the match. And so we were waiting for the case to be tested. No, before then, JJ told me, say, 'Oh, Mommy, I can eat salt, and I'm not going to die.'
I said, 'But I know I can't give you salt, so how can you eat salt?'
And he say, 'I'm not going to die.'
I say, 'Okay.'
Then Justin call me and say, 'Hawa?'
I say, 'Yes.'
He say, 'Oh, we have the match!'
I was so happy!
Justin: We went in and met Dr. Smith and Dr. Nelson introduced us to her staff, and she told us that they have been doing bone marrow transplants for years at the University of Minnesota. And so she's hoping that JJ will be able to go through the bone marrow transplant successfully. 'Well, we have completed the initial testing to see whether he's qualified for a bone marrow transplant.' And so, at that time, he explained to us the results, and I can't now recall the doctor's name, but he said that our son was not the perfect match for a bone marrow transplant in terms of his health.
Hawa: I said, 'The first thing, we gave everything to God, because when God never wanted for the child to be [inaudible], he were coming to take. Now, I believe that we have trust in the Lord, so we will go for it. So we'll have to take our chance.'
Justin: I told Dr. Smith, 'We are prepared spiritually; we are prepared that our son is given the opportunity to go through the bone marrow transplant. And part of the reason is that we see him as someone that God has given to us. We are a very prayerful family, and we believe that the bone marrow transplant would be successful. told us that he was going to go through the [inaudible] of chemotherapy Hawa was the primary person to be with him at the University of Minnesota. Could you explain, Mom, what were your experience, what you did while he was going through the chemotherapy and preparing for his marrow transplant?
Hawa: I was the housekeeping for JJ – we call him JJ – JJ, so during the nine days of the chemo, it was work. Now, you have to wake up and see what's go on. You cannot leave everything with the doctor and say that they're going to do it because you have insurance, but you have to feel that this is your kids, nobody can do it besides God, and you come second. So if you not do it, nobody will feel how you feel. it been a long, long journey for me and my family and my husband. So I just want, if you have a, it's not time to be making argument, or if I know I'm going to leave. Some people because you have sick child, it's your fault. So we just hold on, because God say, in sickness, in death, I do. So in JJ life, it like you married, so we have to hold on to one another. So that's what we did. So we couldn't get mad with one another, and we continued to love ourself and our family, so thank you.
Justin: And for those who have kids with sickle cell disease, my advice out there is that prayers is very important, and in addition to prayer, family support is very important; and you have to listen to your doctors and nurses; and cleanliness is very important because of infection. So we just want to say thank you, and we are glad to be part of this storytelling and hope that some will be able to take a few things from our stories and use it as helping tools.
We wish to extend our thanks to the families who have shared their story here about the impact of living with hemophilia and sickle cell disease. We would also like to thank the many who worked on this project:
The Children's Minnesota StoryCorps Legacy Team:
Eddie Gonzalez, Jocelyn Bessette Gorlin, Susan Kearney, Stephen Nelson, Margaret Heisel-Kurth, Stephanie Davis, Angela Blue, Elizabeth McDonough, Jill Swenson and Alisa Linne.
Special thanks to:
Stephanie Moua, Hamdi Hussein, Sadia Farah, Fatima Ali, Caillyn Costello, Suzanne Lehman, Suzan Ulrich, D'Ann Urbaniak Lesch, Justin Nelson, Allison Albright, Marvin Holmes-Leopold, Jose Rodriguez and Mitch Hare.
Minneapolis Institute for Production and Recording:
Jose Rodriguez and Mitch Hare.