New diagnostic technology makes seizure-ending surgery possible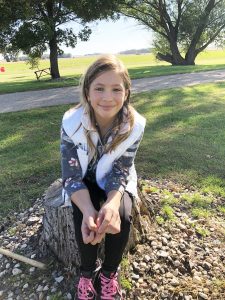 This past summer, Nicole Decker couldn't wait to jump into her family's backyard pool. Not an unusual activity for most 10-year-olds. However, for Nicole, who was diagnosed with epilepsy at two years old, jumping into a pool or riding a bike wasn't a possibility. She and her family lived with the constant fear of never knowing when she might have a seizure—one that could lead to serious injury or death.
For the majority of people diagnosed with epilepsy, their seizures are well controlled by medication. For the others—about 30 percent—medication doesn't work. Nicole was in that 30 percent. At times she was having seizures every day.
"We've had a couple very dark years where we didn't see a future; we didn't see hope," her mom Kathrina Decker said. "We felt we were running out of options."
In 2012 Nicole was referred by a local neurologist to the Level 4 Pediatric Epilepsy Center at Children's Minnesota and Minnesota Epilepsy Group for advanced epilepsy care and pre-surgery evaluation. Dr. Nitin Agarwal, an epileptologist, became her new doctor.
"Patients with refractory epilepsy—which means they have failed two seizure medications—should be referred to Level 4 Epilepsy Center for further evaluation," Dr. Agarwal said. "We know that any additional medication may give less than a 10 percent chance of seizure control, and these patients should be evaluated for epilepsy surgery.
"Nicole had failed more than six medications in the past, so her chance of seizure freedom with medications alone was very low," he added. "This past year she was having seizures about four times a month."
A dedicated team of experts—epileptologists, neuropsychologists and neurosurgeons—evaluated whether surgery could be an option for Nicole.
They suspected the seizures were originating in the frontotemporal  region of her brain, but until now, there wasn't a minimally invasive way to pinpoint the source. That all changed in 2017 when our Level 4 Pediatric Epilepsy Center acquired stereoelectroencephalography (sEEG) and the Rosa robot technology.
Children's Minnesota neurosurgeon Joseph Petronio, MD, worked closely with Dr. Agarwal and team to prepare for Nicole's surgery. She was just the second child to have this new procedure at Children's.
"The doctors thought surgery was a good option because none of the meds worked," said Kathrina. "We knew this was our best option."
In December 2017, Nicole underwent this new, minimally invasive surgical procedure to implant 15 tiny electrodes—about the width of a pencil lead—through small holes in her skull to the areas of the brain where her doctors thought the seizures originated.
"Using the Rosa Robot for this procedure allowed us to place the electrodes with high precision and in rapid succession. This reduces surgery time and improves outcomes," said Dr. Petronio. "Our Level 4 Pediatric Epilepsy Center is the only one in the state that combines the sophisticated technology of sEEG and Rosa."
The electrodes remained in Nicole's head while she was hospitalized at Children's Minnesota in the pediatric epilepsy monitoring unit. During that time, her seizure medications were stopped so she'd have seizures that could be recorded on the EEG.
While in the hospital, Nicole's mom shared her thoughts on what she hoped for Nicole following surgery: "I want her to be able to ride a bike, go swimming, grow up and have a family."
After about a week of monitoring her seizures, Dr Agarwal and his team were able to have a very accurate understanding of where the seizures originated in her brain. With this new knowledge, her care team agreed that additional surgery to resect that portion of her brain had the potential to eliminate seizures for Nicole. In May 2018 she had that surgery.
"Surgical seizure freedom depends on many factors, primarily the etiology if known," said Dr. Agarwal. "In a temporal lobe epilepsy like Nicole's, up to 80 percent of patients may have seizure freedom depending on the extent of the problem and success of surgery."
Six weeks later, Nicole was back for follow-up appointments with both doctors. Since the surgery she has not had a seizure—and her hope was to get the all-clear to go swimming and biking after the appointments. Both doctors gave her the go ahead.
About six months after the surgery, Nicole's doctors will begin to wean her off seizure medications. Her mom and doctors have already noticed a change in her since the surgery. "At her last appointment she was brighter and more engaged," said Dr. Agarwal. "She'll continue to see improvement as medications are  decreased over the coming year or so."
"From where we started to now, there is just so much that she can do," said Kathrina. "We are so blessed to have this new technology that has given her a chance. There are endless opportunities and possibilities for her now."
A seizure-free life
Children's is the only epilepsy center in Minnesota using sEEG and Rosa Robot technology to pinpoint the origins of seizures — and eliminate them.
Stefanie Kula