$500,000 Kohl's grant makes breathing – and learning – easier for Twin Cities students with asthma
Asthma is a chronic condition that can seriously impact your airways, and if you're a kid, it's a condition that can seriously impact your education. Asthma flare-ups are the number one cause of school absences for children ages 5 to 17, often leading to behavioral problems, low engagement and poor academic achievement among students.
In an effort to stem the serious effects of this disease, Children's Minnesota is using a $500,000, two-year grant from Kohl's Cares to provide a number of resources to Minneapolis and St. Paul public schools to help kids struggling with this illness. This includes providing students with devices like spacers, which help deliver inhaled medication directly to the airways; interactive posters that demonstrate the effects of asthma on the lungs; and resources through Children's Community Connect program that target social factors impacting health, including pest infestations and mold.
"We know that asthma can be a significant health concern for kids, and studies have shown that it can even affect their behavior and performance in school," said Dr. Gigi Chawla, chief of general pediatrics at Children's Minnesota. "That's why we are incredibly grateful to partner with Kohl's on ways to reduce asthma flare-ups among children and to provide school health professionals with the tools and resources needed to help kids better manage this condition. It's important that a team approach to asthma care starts at an early age and that support is provided for kids throughout the school years."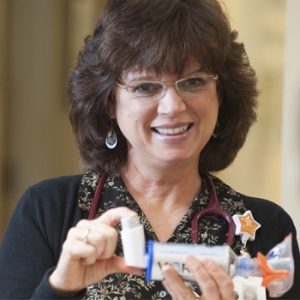 Already, the funding from Kohl's is making a notable difference in local schools. For instance, data from the first year of the grant demonstrated a more than 10 percent decrease in unscheduled visits to health offices for unmanaged asthma symptoms across all Twin Cities partner schools.
Additionally, Children's Minnesota is taking the extra step of empowering school health professionals by providing tools and educational opportunities focused on pediatric asthma, such as:
A professional development conference for licensed school nurses and school health assistants, which covers a range of topics including goals for asthma management, identifying asthma triggers and managing asthma medication.
An online resource for school health professionals that hosts videos from the professional development conference.
A pilot program at select schools that enables Children's Minnesota to receive remote access to students' medical records for general pediatric patients with parental consent. The program also allows school health professionals to quickly view a child's asthma action plan or other medications needed to provide appropriate care in school.
An upcoming pilot at a St. Paul elementary school that will give school nurses the opportunity to connect with Children's Minnesota clinicians for advice when a child comes to the school nurse's office with uncontrolled asthma symptoms. The goal is to intervene in the early stages of an asthma flare-up to help reduce emergency department visits and decrease the number of days a child with asthma may need to miss school.
"Helping school health professionals better understand the condition and have a committed partner in managing asthma symptoms is a huge step toward letting kids with asthma just be kids, be healthier in the classroom and able to stay in school," Chawla added.
St. Paul Public Schools reports:
Children's MN partnership and the Kohl's Cares asthma grant has had a positive impact for Saint Paul Public Schools health office staff and students with asthma. With support of the Kohl's Cares grant, Children's MN has provided spacers for school health office staff to use with student's that do not have them. Spacer use among students has improved medication delivery and supports evidence-based practice for students with asthma. Teaching materials, including posters of three-dimensional models of lungs, inhaler delivery effectiveness with spacers and medication visuals, have helped support education that school health office staff reinforce with students visiting the school health office. Professional development around asthma evidence-based practice and challenges to providing comprehensive care for students has been integral in expanding the school health office staff's knowledge and ability to support students with asthma.
Since 2001, Kohl's Cares has donated nearly $7 million to Children's Minnesota. Other Children's Minnesota initiatives supported through Kohl's include school and community influenza vaccine clinics, flu prevention education in local schools, and the Children's pediatric mobile simulation lab. For more information on the asthma grant, visit asthma/Kohl's Cares.
Laura Stokes