Minnesota Twins players bring smiles to patients during Childhood Cancer Awareness Month
Minnesota Twins players and Twins mascot, T.C. Bear, visited patients at Children's Minnesota's Minneapolis hospital on Wednesday, September 11, in honor of Childhood Cancer Awareness Month and their partnership with Children's during our Shine Bright for Cancer Kids campaign.
During the visit, Twins players met with patients and families in the hospital, and even made a special guest appearance on Star Studio, our in-hospital variety show. They also donated and delivered Twins-branded Starlight hospital gowns and Minnesota Twins hats, thanks to MLB and the Starlight Children's Foundation. The surprise appearance and gifts brought smiles to patient's faces.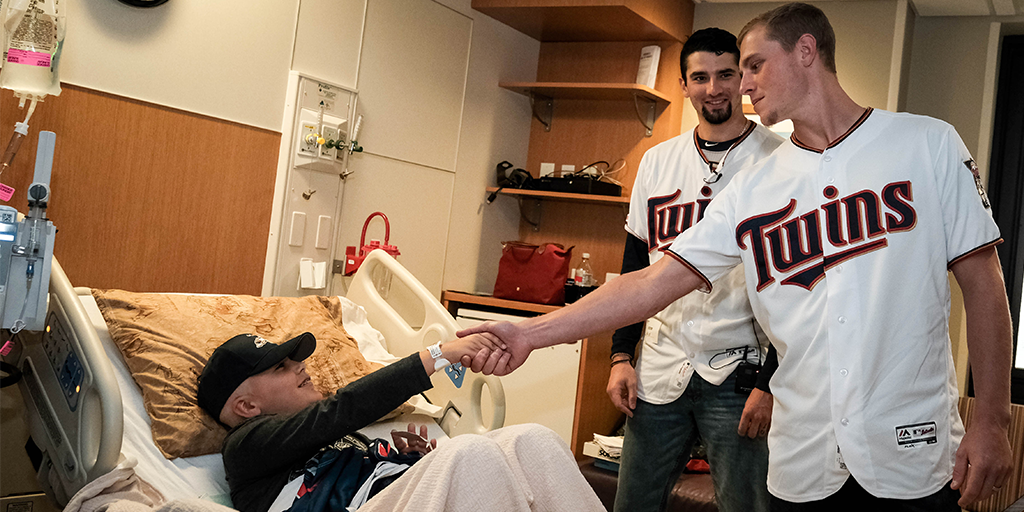 Visiting players included pitchers, Devin Smeltzer, Cody Stashak and Randy Dobnak and outfielder, Ian Miller. For Smeltzer, the experience was especially meaningful given his personal history as a childhood cancer survivor. In 2005, right before his 10th birthday, he was diagnosed with bladder and prostate cancer. He went through a year of treatments and the cancer was gone. "So, now it's just looking back and trying to use my platform as much as I can to give back," Smeltzer said in an interview with the StarTribune.
During the players' appearance on Star Studio, patients and families filled the room to watch the show and interact with the players and their mascot. From games to competitions to interviews, patients had a great time.
See all the photos from this special visit here.
Shine Bright for Cancer Kids
The team at Children's cares for nearly 1,000 kids every year fighting cancer, more than any other hospital in the state. This September, join us in supporting patients and families battling cancer by participating in Shine Bright for Cancer Kids!
Businesses throughout Minnesota will be offering special promotions and discounts with the proceeds benefiting our Cancer Kids Fund. Just by visiting your favorite businesses, you'll be providing patient families with everything from activities, entertainment, music therapy, to everyday expenses like meals and transportation.
Learn more about Shine Bright for Cancer Kids.
Alexandra Rothstein