Why Children's Minnesota employees give where they work
Our employees give their jobs their all every day, as soon as they walk through our doors. And for that, we are so thankful.
Many people may not know that Children's Minnesota is a non profit and relies on donations of all sizes to  provide a continuum of support, information, education, comfort and connection to help patients navigate and participate in their health care experiences. This attention to detail, comfort and care is not found at every health care facility. It's only available at Children's because of generous support from donors. These programs are not reimbursed by insurance and don't show up on a patient's bill.
Our staff see up close the difference these services make, which is why many of them give to Children's financially as well. Read why four Children's employees give where they work.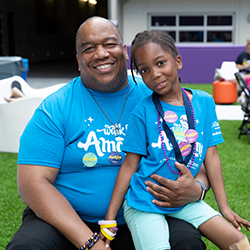 James Burroughs – Chief Equity and Inclusion Officer
James' daughter Teresa, who is treated at Children's, is 7 years old and suffers from sickle cell disease, which makes it difficult for her red blood cells to travel throughout her body and deliver oxygen. Sickle Cell disease can cause episodes of pain, organ failure, stroke and possibly death. James has witnessed resilience through Teresa's positive attitude, strength and optimism. "Every day she gets up smiling, laughing and charging forward. She inspires me every day to be the best I can be and never quit," James said. "Because of her, I do everything I can to help her and others like her get well."
Kris Fulgham – Program Assistant, Family Services
About seven years ago our family encountered a financial hardship. A friend loaned me some money and when it was time to pay her back she asked that I just "pass it on". Because I work in the Family Resource Center I see the needs that many families have on a daily basis. One day a mom, who had just lost her house in a fire, came into the Family Resource Center. We were trying to help her replace a few items that she had lost. I gave her a comb and she was thrilled, she said she hadn't been able to comb her hair and this was the best thing she could have received right then. Sometimes I stop and think maybe my small "give" is providing that comb today. I can easily donate any amount I choose and have it taken right out of my paycheck, I don't even miss it. I am "passing it on".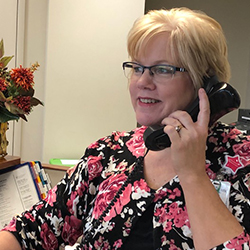 Paige Erickson – Pharmacy Technician
I was a Children's employee from 2013-2016. Part of that time I worked at the Welcome Center and then continued my journey as a pharmacy technician. I left for a few years due to a move but was thrilled when I was able to move and become a Children's employee again. Individual reasons why I love to give back and volunteer could go on forever but it all comes down to knowing I am able to make an impact on others' lives. I feel like I am fortunate to be able to do so.
Callie Obey – Credentials Specialist
Working for Children's Minnesota is not just like any other job. It's not just about the paycheck. It's not just working day-to-day. It's confidently saying, 'I am coming to work every day and putting in everything I have, because what I do truly matters'. No matter what your job is, YOU are important, and YOU are making an impact. I've been described by my colleagues as "determined, giving-of-yourself and a big heart." These words resonate with me. Giving back, big or small, helps in so many ways. Just a small amount can make a big difference. I am so grateful that I was asked to help with this campaign and to be a Champion for my department. This is just another way to make a difference in my community and an easy way to put a smile on so many kids' faces.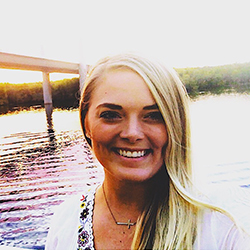 Your donation to Children's, no matter how small it may seem to you, makes a big difference to the kids we care for. As a nonprofit health system, we rely on the generosity of our community. Become part of a Children's story and donate today.
Kaitlyn Kamleiter