How to care for COVID-19 symptoms at home
Coronavirus, or COVID-19, is an illness with symptoms similar to the flu or common cold, including body aches, headache, scratchy throat, fever, cough or difficulty breathing, with other symptoms like loss of smell or taste. While this illness can certainly be scary, most people, especially children, will have mild symptoms that can be managed at home.
How to help your child recover at home
Caring for a sick child at home will be the same whether or not your child has tested positive for COVID-19. Follow these simple steps to help your child feel better quickly:
Get plenty of rest and stay hydrated.
Wash hands often with soap and warm water, for at least 20 seconds.
Separate the ill child from the rest of the family as much as possible to prevent spreading the illness to others.
If it's not possible to separate from the rest of the family, the sick child should wear a face mask.
Cover all coughs and sneezes, then quickly toss used tissues into a lined trash can.
Avoid sharing dishes, cups, towels and bedding,
Clean and disinfect all high-tough surfaces thoroughly.
How long will symptoms of COVID-19 last?
There's no way to tell exactly how long a person may feel sick if they have COVID-19. But here are some guidelines on when you can stop home isolation:
Seven days have passed since the symptoms first appeared.
Their cough and respiratory symptoms have improved.
More than three days (72 hours) have passed since their last fever and no fever-reducing medications have been given.
If you have questions or concerns about how long your child has been ill, please contact their primary care provider.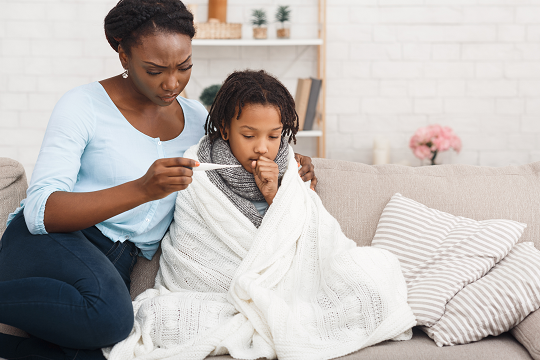 Should I bring my child to the doctor?
If your child's symptoms are mild, you can care for them at home. The Centers for Disease Control and Prevention (CDC) recommends that kids who have symptoms of COVID-19 should stay home and away from public spaces to prevent spreading the illness.
If you think medical care is needed, please call your primary care clinic before traveling to the emergency room or clinic. Your child's pediatrician can instruct you on the best next steps.
What if my child's symptoms get worse?
If your child begins to experience difficulty breathing or shortness of breath, please call their primary care provider at the clinic where they regularly receive care. If your child needs emergency care, call 9-1-1 and let them know they are showing signs of COVID-19 or have been tested for COVID-19.
It's essential to call ahead so health care teams can be prepared for your child's arrival.
What if my child has an underlying condition?
Children with underlying health conditions are put at a higher risk of severe illness from COVID-19 and should avoid exposure to the illness by staying home, avoiding group gatherings and not traveling.
Kaitlyn Kamleiter