Children's Minnesota celebrates Ramadan during COVID-19
At Children's Minnesota, we recognize and celebrate people from all different backgrounds. We spoke with Dr. Samreen Vora, medical director of simulation at Children's Minnesota, about Ramadan so we could learn more about this holiday.
What is Ramadan and how is it celebrated?
Ramadan is an Islamic holiday celebrated by Muslims around the world. It is the 9th month of the Islamic calendar, when Muslims engage in fasting from dawn until dusk each day during this month. This year, Ramadan is celebrated from Thursday, April 23-Saturday, May 23.
"We not only refrain from food, drink, smoking, intimate relations, but we also strive to maintain a heightened level of self-control through acts such as avoiding disagreements, anger, and greed," said Dr. Vora.
Participating in Ramadan is a test of willpower and resilience, a time for community building and also a way to learn to empathize for those who may experience hunger and thirst regularly.
What does Children's Minnesota do to help Muslim patients and families?
Children's Minnesota staff has done an incredible job of acknowledging the Muslim patients and families who are facing the extra burden of being in the hospital during this time. Child and family services team members round every evening and hand out dates and water at Iftar time (or sunset, breaking of the fast).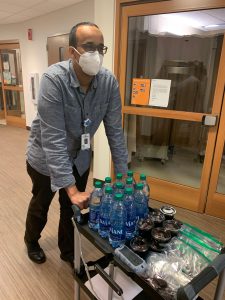 More about Ramadan from Children's Minnesota employee
Children's Minnesota employee Samrina Naqvi shares with President and CEO Dr. Marc Gorelick the importance of Ramadan in the Muslim faith, traditions and practices of the holiday and how the current social distancing requirements are affecting this year's celebrations.
How does COVID-19 affect Ramadan?
COVID-19 has produced extra challenges for the Muslim community, especially during Ramadan. "During the month of Ramadan, attending extra nightly congregation prayers, breaking fast in a community setting and inviting friends to break their fast together so we can share food are all major things that makes Ramadan special for Muslims," said Dr. Vora.
Due to social distancing, many of these aren't possible. However, many Muslims have found creative ways to still celebrate Ramadan.
"For example, the mayor in the cedar riverside neighborhood temporarily lifted the volume ban so that the Muslim call to prayer could be broadcast widely," Dr. Vora said. "This has been tremendous since a majority of the residents are Muslims and this will bring ease to their hearts and create a sense of togetherness."
Eid al-Fitr is celebrated after completing a month of fasting. The day consists of gathering together for the traditional Eid prayer in the morning and the feast during the day.
COVID-19 has made celebrating Eid al-Fitr a little complicated. Many Muslims will have to celebrate at home rather than gathering together in groups to celebrate. In the effort to remain grateful in honor of Ramadan, Dr. Vora encourages you to wish your colleagues and friends Eid Mubarak on May 24.
What is Children's Minnesota doing during Eid al-Fitr?
As Eid is approaching, we've added books about Ramadan and Eid to be handed out during the rounds as small Eid gifts for the kids.
Dr. Samreen Vora and her daughter talk to the Star Studio team about Ramadan.
What can you do to participate in Ramadan with Children's Minnesota?
In recognition of Ramadan April 24 – May 24, 2020, our friends in the Children's Minnesota Muslim Employee Resource Group, in partnership with the Children's Minnesota Foundation, are hosting a 'donate your lunch' fundraiser in the last 10 days of this holy month to raise support for MATTERboxes.
Thanks to the incredible generosity of Children's Minnesota employees, this campaign raised over $3,200 in 2019 to support those who need us most.
Learn more about how you can 'donate your lunch' here: Donate your lunch fundraiser.
Alexandra Rothstein