It's OK to not be OK: Coping strategies for families
As events like COVID-19, the civil unrest following the death of George Floyd and greater recognition of racial injustice continue to change how families used to live, many of us try to keep smiles on our faces and continue our happy-go-lucky attitudes. But sometimes, we might not be feeling OK about the situation, and we're here to say: That's OK!
These events have brought on feelings of anxiety, stress, uncertainty, sadness and anger. All of these feelings are normal, and you don't have to pretend to be OK if you are not. To help you and your family deal with some of these feelings, Bethaney Kaye, APRN CNP DNP, and Kavita Desai Dakoji, LP, PhD, from Children's Minnesota pain, palliative and integrative medicine program have shared some tips.
How to be OK not being OK
Recognize your feelings
When you start to feel uneasy, look within yourself and ask: 'What am I feeling and why?'
Breathe into it
Take a few moments to just be with your feelings. Breathe into them and let them be what they are for a moment, even if they are overwhelming.
It is what it is
Without placing judgement on your situation or feelings, simply accept what you are experiencing. Repeat this to yourself: 'This is just how it is right now, and that's OK.' Being OK with the situation as it is is not accepting the situation; it means that you are accepting the reality of the moment.
Take action to do what you can
Again, ask yourself: 'What am I feeling right now and why?' Use the 'why' to inform your next actions. Accepting the reality that is present is the first step. Then, you can decide the best way to take action. Even if the action is to acknowledge that you are not OK with the situation.
Beyond breathing it out
If you are not OK with being OK, don't be afraid to reach out for help. The world was hard before. And it is harder now. Ask for help. And remember to keep breathing. Your breath is always here, in your control, and allows a moment to anchor into the present moment.
If your children are feeling anxious, scared, angry, sad, uncertain or confused—whether about COVID-19 or about racial injustices– you can help them learn to deal with those feelings by practicing these coping skills together:
Label your feelings and describe how you cope with them. Seeing an adult in action is the best way to teach kids.
Help your children label their feelings and acknowledge that it can be hard to feel.
Breathing exercises. Blowing bubbles, practicing on a kazoo, or giving a stuffed animal a ride on your belly are all fun and effective ways to teach deep breathing.
Positive self-talk. Highlighting the times that they cope well increases your children's confidence in their own coping abilities.
Be creative. Make some art, cook, garden, or create new games.
Try yoga. Animal poses are a hit with younger kids.
Intentional or planned distractions are a great break from reality. Try reading a book your child suggests, playing a family game, talking about funny family moments, or watching a funny movie.
Supporting teens and young adults
When talking to your preteen, teen or young adult, it's important to acknowledge that this may be harder for them than it is for young children because they are developing their own independence and ideologies. Here are some strategies to help older children and young adults cope with this crisis:
Allow for increased control and choice in their day-to-day activities, finding any opportunities that you can.
Schedule time to discuss heated topics, making sure there is an arbitrary end time with an activity to relieve the tension (for example, eating a special dessert).
Help them create new self-care activities.
Empathize with their feelings- even if their feelings are different then your own.
Acknowledging that for some children, this may be information that they have known, and for others, this recognition of racial injustice may cause a lot of emotional confusion and uncertainty about the world.
Teens and young adults need to be social to thrive, and process the rapid changes that have occurred, so allow them to spend extra time connecting with friends – on screens to video chat or during socially distanced outings.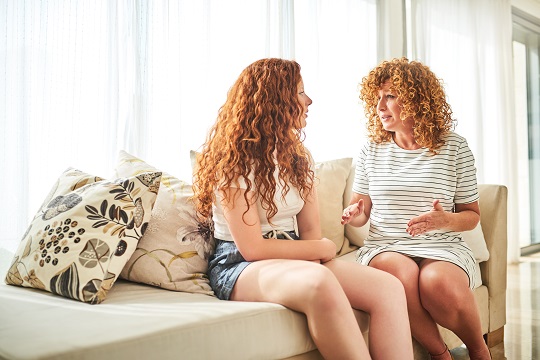 They may also want to spend time outdoors with friends, or attend outdoor protests and community clean ups, which is OK if they practice safe social distancing.
Build on the focus of activism and community engagement to identify ways your family can contribute to the causes that are important to you, and remember that thinking about activism and civic engagement is enough to start.
Additional tips for your family
Set routines
Keep routines in place if possible, or start new routines. Whatever you do, try to be consistent. If you are working from home with kids, try to set some clear expectations about work time. Parents and kids alike should respect each other's work time and space.
Try new activities
Be creative when trying new activities and exercise, and try to get outside as much as possible.
Some activities can even be done virtually. Set aside some time to spend time with friends and family virtually, and be sure to be present in the moment during these times.
Stay informed as a family
Keep kids in the loop, even young children, with what is happening in the community around you. Hearing it from you will make it easier for your children to talk to you. Balance staying informed with limiting the amount of news intake, across news channels and social media, and work on having news free time before bedtime. Keep conversations short, and leave the door open for coming back, while also emphasizing aspects of the situation that you can control.
If you're unsure about how to talk to your kids about these difficult topics, we have some resources that may help:
Kaitlyn Kamleiter