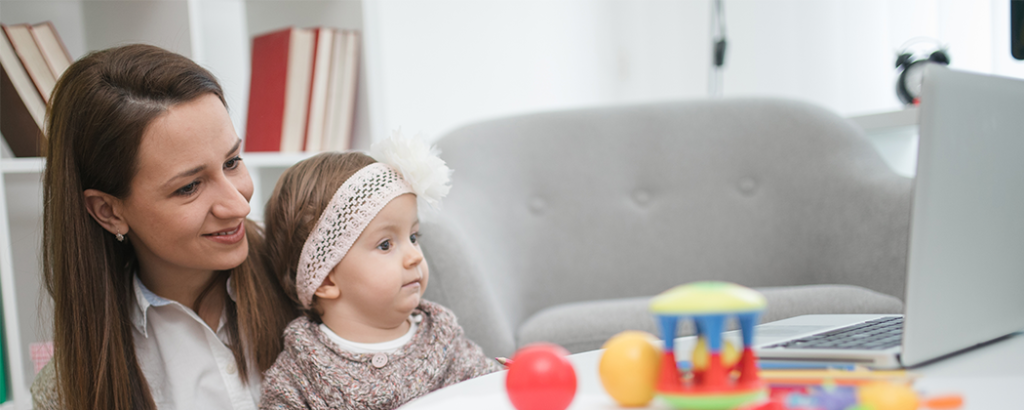 Tips for working remotely while kids are home
Many of us are still adjusting to working from home, and as the school year starts with distance learning for some kids, many parents are struggling to find balance. But it's important to join together to continue the important work we do in our careers, but also keep kids occupied and safe while they are home. Here are some tips to make remote work easier for parents.
Tips for a productive workday
Have a routine for yourself
Creating a schedule for yourself will help you maintain a sense of normalcy while working remotely.
Prepare for the day: Set your alarm each day and make time to exercise, shower, get dressed and be ready to start your day.
Schedule your work time: Make sure to set a schedule for yourself so, your team knows when you'll be available and you know when it's time to log off for the day. It's easy to work overtime while remote.
Connect with your team: Stay connected with your team and continue to cultivate relationships. Stay connected through things like instant messages, email or phone calls and act as a support system for each other. Communication is key while working from home.
Minimize distractions
Working from home can have so many distractions, like dirty dishes in the sink and the television. While these things are tempting, it's important to work during your work hours and take care of your home and relax after work.
One of the biggest distractions can be children at home. Here are tips for each age group and how to help minimize distractions:
For infants: Try wearing your baby so your hands are free (which will also have the added benefit of settling cries!).
For infants and small children: Create a safe play zone near your work space so you can keep an eye on them while you work.
For older kids: Have them use headphones if they're using their phone for entertainment. Create an activity schedule to help with boredom.
Talk to older children about work-space boundaries. This can help you get work done while still letting them know that you are there for them when they need you.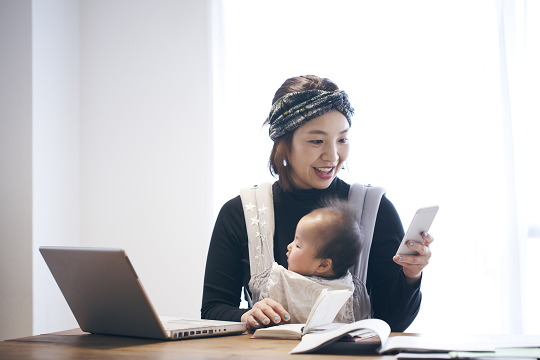 Create a routine for your family
Families need routines during this unprecedented time as well. Here are a few starting points:
Use teachers as a resource: Your child's teacher may have sent home a schedule or schoolwork for children to complete while they are not in the classroom. Teachers put a lot of thought into the schedules they have and can provide age-appropriate activities and time blocks.
Take advantage of free educational resources: Check out this collaborative document that pools known educational resources that are free or are free for the time being to help support families affected by COVID-19.
Define lunch and snack times: Try to prepare healthy snack and meal options ahead of time to allow kids to ensure proper nutrition, allow kids to be self-sufficient and to maximize your time.
Stay active: Make sure kids have time to do fun things, but let them pick their own activities so they don't get bored. Physical activities are a great way to keep them entertained and active. Limit screen time, or try to use screen time as a learning activity.
Create a productive work space
Set up a home office
It is important to create a space where you can work undistracted. This space should have a comfortable place to sit or stand, with a table or desk, and a power outlet. Don't forget that good lighting is also important.
Make sure you have the technology you need
A computer or laptop is a start, but many people find that for long periods of work, even with the convenience of a laptop, it is beneficial to have a full-size keyboard, mouse, and a second screen if possible.
Have the right applications installed on your computer and make sure that they work from your home.
Invest in good internet access if you can. This will make connecting to your work network that much easier.
Avoid video conferencing when possible because this will cause strain to the network.
Practice self-care
It's hard to take care of others without taking care of yourself first. Here are some simple self-care tips:
Stand up and stretch every hour.
Get outside during the workday. If you have a meeting that doesn't require a computer, take it as you walk.
Use what would typically be your morning commute time to get some exercise. This will help prepare your mind and body for a productive day.
Use your usual evening commute time to help yourself wind down from your day and to keep you from working into the night regularly.
Keep a positive attitude. While working at home can feel isolating, try to appreciate some of the benefits of remote work, including no commute and more free time with your family.
Working from home can be difficult, especially when children are home from school. But following some of these tips can help you reduce stress while working remotely and help you be more productive in your new work setting.
Kaitlyn Kamleiter