11-year-old Lainey raises money to help hearing-impaired peers
Clear face masks help hearing impaired communicate during COVID-19
Lainey Brod is an active 11-year old who loves hockey, golf and ballet. Like most kids her age, she's had to adjust to life during the COVID-19 pandemic and wearing face masks in public; however, the masks, which are essential to preventing the spread of COVID-19, can make it difficult for Lainey to communicate with family and friends.
Lainey has moderate, permanent hearing loss in both ears and has used hearing aids since age 3. Even with hearing aids, she needs additional cues, such as lip reading, to understand what others are saying. She can't read lips that are covered by a face mask!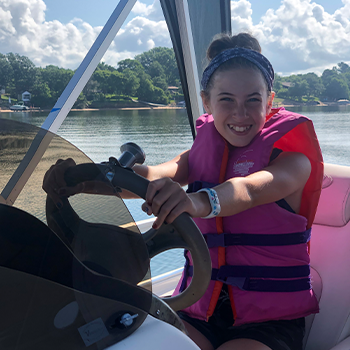 COVID-19's impact on communication
Children's Minnesota pediatric audiologist Dr. Leah Tygum diagnosed Lainey's hearing loss and has been caring for her hearing needs ever since. She says the use of face masks has changed how everyone communicates, but particularly people who are deaf or hard of hearing (DHH).
"Many people, kids and adults, with any degree of hearing loss, whether they use hearing aids or not, use lip reading to help 'fill in the gap' of sounds. With the masks that are critical during the pandemic, this significantly impacts communication," said Dr. Tygum.
To protect patients and their families during the pandemic, everyone in the state of Minnesota, including Dr. Tygum and everyone at Children's Minnesota, must wear face masks when inside. During appointments with patients who wear hearing aids, Dr. Tygum often has to take them out. When this happens, not only can the patient no longer hear her, they can't see her face.
Lainey the Entrepreneur
During a recent appointment, Dr. Tygum talked to Lainey about a different type of face mask—one with a clear window so faces can be seen.
"So much of our communication is not just words, but facial expressions too, which you also lose when wearing a solid cloth or hospital and surgical masks," explained Dr. Tygum.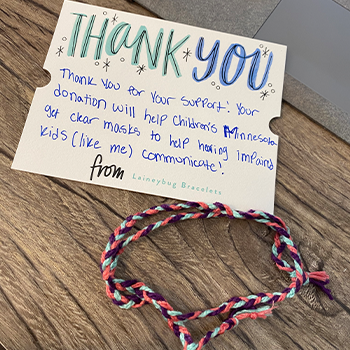 That night, Lainey and her family had a chat around the dinner table and she came up with an idea: To raise money for Children's Minnesota to buy the masks by selling her Laineybug Bracelets.
Lainey emailed family friends asking for donations. But when Lainey's mom, Courtney Brod posted about the bracelets on Facebook, the orders started rolling in. Lainey held bracelet making parties with friends and family, and she turned the family's dining room into her makeshift factory and office. She even learned to use Excel spreadsheets to track her orders and started a website.
"She has taken over our dining room; there is thread everywhere. We have sacrificed our home for her headquarters," said Courtney.
On September 4, 2020, Lainey donated more than $2,000 to Children's Minnesota for the purchase of Rafi Nova Smile Masks. The masks went through an approval process and a disinfection protocol was created to ensure they met the Children's Minnesota infection prevention standards. Once purchased, the masks will be distributed to Children's Minnesota audiologists and speech pathologists for use during appointments.
Donating to Children's Minnesota
Children's Minnesota's front-line workers have been unwavering in their amazing care for kids during the pandemic. Monetary donations to our Urgent Needs Fund allow us to place philanthropic support where it's needed most, as soon as we receive the funds.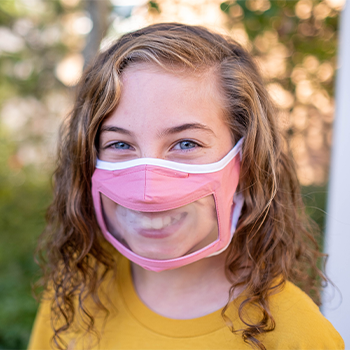 Children's Minnesota Pediatric Ear, Nose and Throat clinic
Children's Minnesota audiologists have expertise in providing comprehensive audiology services to meet the unique needs of newborns, infants, children, and adolescents. Our audiologists provide diagnostic and rehabilitative services using specialized equipment and a variety of methods to match the age and developmental level of each child.
Our ENT and facial plastic surgery program also offers extensive hearing-related expertise for conditions of the ear, including:
Audiogram (a graph that shows hearing ability).
Cochlear implants.
Nick Petersen