Now open: Children's Minnesota Specialty Center–Lakeville
Families often travel from near and far to access the unique care and services available at Children's Minnesota. Our goal is to help families get the care they need close to home. To help make this happen, Children's Minnesota has opened a new specialty center offering rehabilitation services, heart care and behavioral health in the south metro area. See our virtual tour below.
You'll be able to find the Children's Minnesota care you trust in the south metro at 18432 Kenrick Ave, Lakeville, Minnesota, conveniently located right off of Interstate 35.
This expansion is part of our long-term vision of making health care more accessible and convenient for children and families. Lakeville is one of the fast-growing cities in Minnesota, and this an opportunity for Children's Minnesota to expand its footprint to help even more families get the care they need when they need it.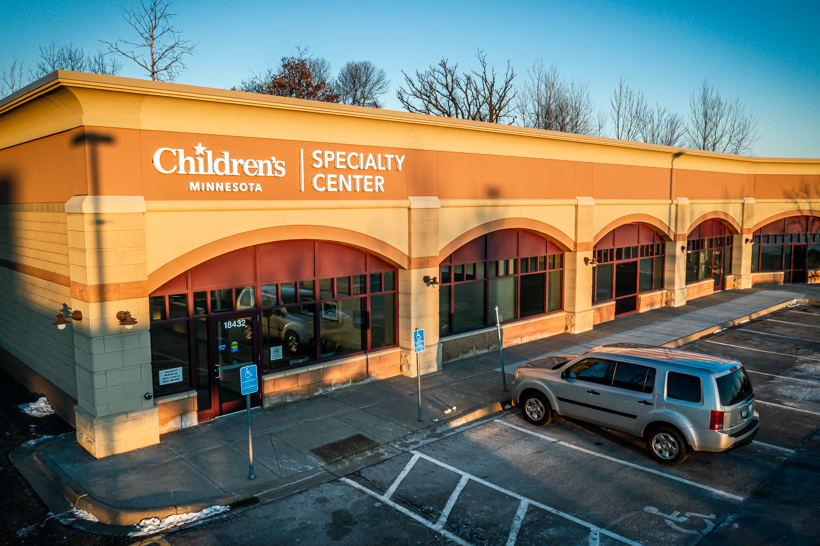 What care is available in Lakeville?
Outpatient rehabilitation services:
The Children's Minnesota Specialty Center – Lakeville includes services in occupational therapy, physical therapy, feeding therapy and speech therapy.
Heart care:
The Children's Heart Clinic offers Monday appointments in Lakeville. Services offered by our pediatric cardiologists include:
Diagnosis and treatment of heart disease in the infant, child, young adult and adult.
Outpatient testing including EKGs and echocardiography.
Consultations and follow-up appointments.
Behavioral health services:
The Lakeville location offers an adolescent partial hospitalization program designed to meet the needs of each individual child. Patients will have hours of therapy each day, but will return home with their families each night.
Improving access to intensive outpatient mental health services could not come at a more important time.
"While the prevalence of adolescent and child mental health disorders have been on the rise for some time, including alarming rates of suicidality nationally and here in our community, the COVID-19 pandemic has only accelerated the need for timely mental health treatment with a more acutely ill and complex population anticipated," said Jamie Winter, director of behavioral health. "We are excited to bring behavioral health offerings to the south metro, which currently lacks important mental health care for children."
Take a virtual tour
Stephanie Hoff