Children's Minnesota St. Paul NICU helps families go home sooner: The Hulstein twins' story
Samantha and Jenna Hulstein, a couple from East St. Paul, had tried for years to grow their family. When they found out they were expecting in June 2020, they were elated. They were even more excited to find out that they were expecting identical twin girls!
But because they were expecting identical twins, their doctor told them to be prepared for a possible stay in the neonatal intensive care unit (NICU) at Children's Minnesota. While the Hulsteins had dreamt about a home birth, filled with familiar comforts, they knew the safety of their babies was their number one priority so they decided to deliver at the hospital when the time came to welcome their twins.
The twins are born
At 33 weeks and six days, Samantha developed preeclampsia, a condition in which a pregnant woman develops high blood pressure, protein in the urine and swelling. Preeclampsia can quickly become more serious, and, if untreated, can lead to seizures and other problems that put both mom and baby at risk.
"I was very panicked," said Samantha, describing the experience. "I was very nervous, and I knew the girls were too small to come out. I kept saying 'It's too early, it's too early.'"
Because of her condition, Samantha was immediately brought to The Mother Baby Center, a partnership between Allina Health and Children's Minnesota, at United Hospital in St. Paul. The team helped her with her breathing and brought in Jenna right away to comfort her.
A few hours later, Samantha delivered the twins via C-section on Jan. 6, 2021 at The Mother Baby Center. Harper weighed just over 4 pounds, while her sister, Emery, weighed a little less than 4 pounds. Samantha and Jenna were concerned when they didn't hear their babies cry after delivery. But each newborn had their own neonatal team of experts at the ready after they were born, while Samantha was cared for by a team of experts trained to care for moms with high-risk or complicated pregnancies.
Because they were born so early and the urgency of their delivery via C-section, the twins initially needed to be resuscitated before they were able to breath on their own. Afterwards, they were transferred to the NICU where Jenna was able to see them through their incubators. She touched their hands and whispered words of comfort to her daughters. A while later when Samantha was feeling better, she finally met her girls.
The Hulsteins enrolled in a pilot program at Children's Minnesota's NICU in St. Paul
Because Emery and Harper were born prematurely, they weren't able to feed without the support of a feeding tube. But other than that, the twins were healthy. Because of this, shortly after the birth of their daughters, the Hulsteins learned about the Children's Home App-based Monitoring Program study at the Children's Minnesota NICU in St. Paul.
What is The Kid Experts™At Home program study?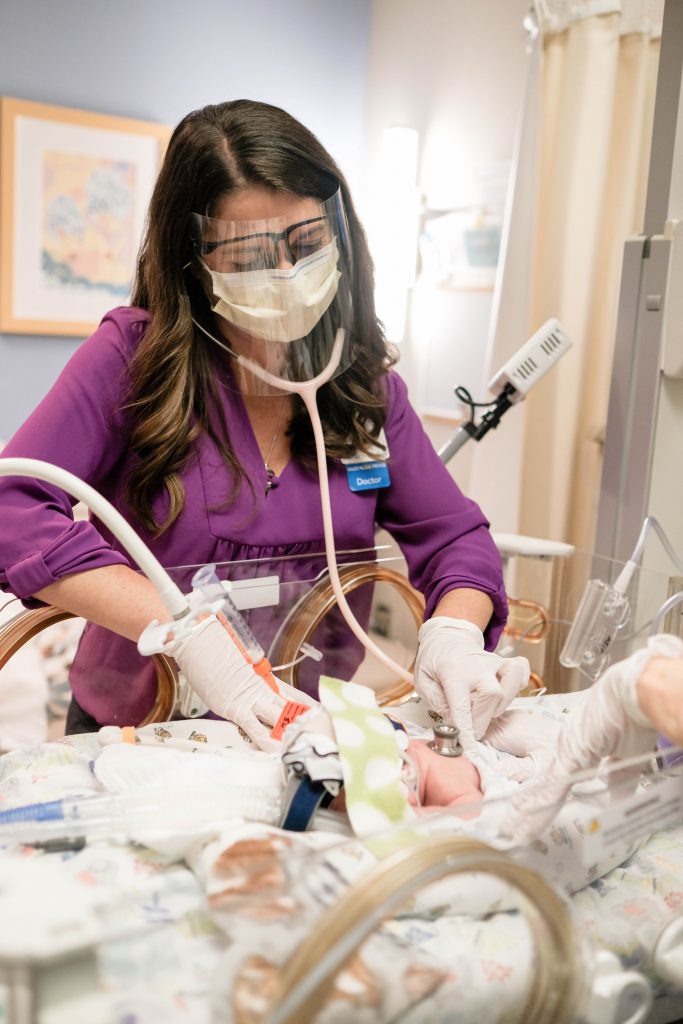 The Kid Experts™At Home program study aims to evaluate how at-home care impacts babies' ability to learn to feed, rates of breastfeeding and overall patient-family satisfaction. Through this study, the Children's Minnesota St. Paul NICU – the only program in the state to be doing this – is piloting a method to be able to send some families from our NICU home faster thanks to grants from the Gerber Foundation and an internal Children's Minnesota research fund. The current grant will allow the program to enroll up to 20 babies.
Who can be enrolled in this program at Children's Minnesota St. Paul NICU?
Babies born preterm who have difficulty feeding but are otherwise generally healthy can be enrolled in the program.
Why would this be beneficial?
Sending babies home from a NICU stay earlier allows families to care for their newborns at home with the full support of Children's Minnesota's neonatal expertise.
How does this work?
Before heading home, babies have a nasogastric tube (NG) inserted. Families are then provided with a scale and a tablet equipped with a program called Locus, which allows parents to input vitals that are shared with their neonatal team.
The benefits of going home earlier from a NICU stay
"The first question any parent asks when their child is admitted to the NICU is 'When can we go home?' We're hoping that this method helps families return to their normal daily lives faster, especially with the additional COVID-19 pandemic restrictions currently in place," said Dr. Cristina Miller, neonatologist at Children's Minnesota and head of the study. "But even after the pandemic is over eventually, this could be a game changer."
Since the Children's Minnesota pilot program began in the fall of 2020, 15 patient families have been enrolled in the trail with promising initial results.
And the Hulsteins were eager to participate. Even when they got home, they had the full support of the specialists at Children's Minnesota, and the family felt even more confident with the Children's Minnesota St. Paul NICU only a few blocks away from their home.
"By far it was the best option," said Samantha. "With all that support, all that backup, we really had a good thing going. It was a no-brainer."
The Hulsteins' experience with the program
The Hulsteins were given special training on how to use the equipment and check the placement of their newborns' feeding tubes.
Emery and Harper were discharged after 13 days in the NICU. A home health nurse came to the family's house to help them set up and ensure they had everything they needed. On the second day after returning home, Emery pulled out her feeding tube in the middle of the night, so Samantha and Jenna called up their team. Since it wasn't urgent and Emery had just fed, their home health nurse was dispatched the next morning to reinsert the tube at the Hulstein's house.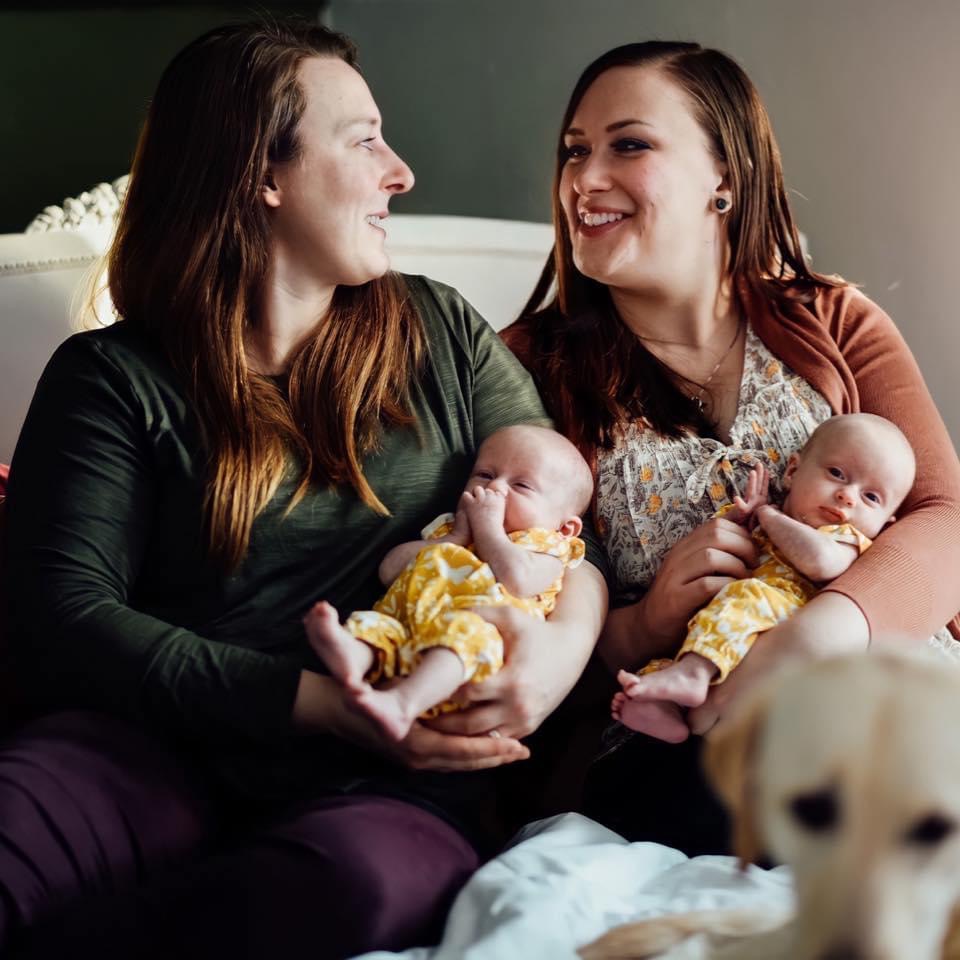 Every morning, Dr. Miller would call the family and check in on the girls. They'd go over the vitals that the Hulsteins provided through Locus and ensure that everything was going well. Only three days later, Emery and Harper were feeding on their own. They thrived in their own home environment, just like the Hulsteins and the Children's Minnesota NICU team expected.
"Looking back, there's a lot the NICU taught us," said Samantha. "Even just the swaddle baths, how to properly dress a baby when they're so small, little things like showing us their cues or helping with breastfeeding positions. We had a lot of nurses who were very nurturing… like someone in our family trying to help pass on knowledge."
Emery and Harper are now 3 months old, and enjoy being read to and listening to their parents sing. The Hulsteins couldn't be more excited for the journey ahead with their girls.
About the Children's Minnesota NICU in St. Paul
The Children's Minnesota NICU in St. Paul has been serving families in the community for nearly 100 years, and continues to be a vital resource for families in the region. Neonatal experts care for babies who are extremely premature, with the full range of Children's Minnesota pediatric sub-specialties providing bedside care, including neurosurgery, neurology, ENT, cardiology, general surgery and more. Families at any Children's Minnesota NICU receive comprehensive care with the support of child life specialists, dietitians, music therapists, respiratory therapists, social workers, spiritual counselors and more.
Dina Elrashidy