Children's Minnesota emergency medicine research focused on racial disparities in diabetic ketoacidosis receives awards from the American Academy of Pediatrics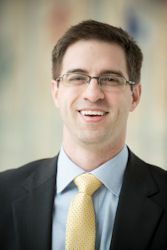 Congratulations to Kelly Bergmann, DO, MS, director of research for the department of emergency medicine at Children's Minnesota, for being awarded Best Overall Abstract in the Emergency Medicine section and the Advocacy Scholarship Recognition by the Emergency Medicine Advocacy Subcommittee at The American Academy of Pediatrics (AAP) 2021 Virtual National Conference & Exhibition.
Dr. Bergmann's research study is titled "Neighborhood Child Opportunity and Racial Disparities in Readmissions for Diabetic Ketoacidosis Across U.S. Children's Hospitals." His co-authors include other Children's Minnesota research and clinical staff: Amanda Nickel, MPH; Matt Hall, PhD; Gretchen Cutler, PhD, MPH; Jennifer Abuzzahab, MD; Dave Watson, PhD; Gabrielle Hester, MD, MS.
Previous studies have identified racial disparities among children with diabetic ketoacidosis (DKA). The Child Opportunity Index 2.0 (COI) was developed to assess neighborhood attributes that illuminate structural inequities and factors influencing health outcomes. Dr. Bergmann's study aimed to determine whether COI is associated with 1) frequency and timing of readmissions for DKA, and 2) complications from DKA, including cerebral edema and acute kidney injury (AKI).
The study found that readmissions for DKA were more common for non-Hispanic black children than non-Hispanic white children at every COI level. However, COI was not a significant predictor of DKA-related AKI or cerebral edema. The research team concluded that measures to prevent DKA readmissions should include interventions aimed at neighborhood and community factors.
The Kid ExpertsTM at Children's Minnesota participated in other virtual exhibits from October 8-11 at the AAP Virtual National Conference & Exhibition, and supported clinicians in submitting their work for consideration. As part of the section/council programming, providers were invited to submit abstracts of case reports, original research, program evaluations and quality improvement projects.
Please join us in congratulating our remarkable staff for leading research that impacts the health of kids across the country. Congratulations Dr. Bergmann and team!
Lindsay Konsor