COVID-19 testing: what you need to know
There is a surge of COVID-19 cases and many people are confused about which COVID tests are best, where they can go to get a test and more.
We are here to help clear up the confusion around testing for you! Below we outline the differences between tests, when you should get tested and where you can get tested.
Where can I get tested?
Testing sites
MDH has a detailed list of testing locations all over the state of Minnesota, so you can find one close to you.
At-home tests
At-home antigen testing kits are sold by local pharmacies and online, but are in high demand right now and may be out of stock, so check back frequently.
Home antigen tests are also frequently available from your child's school nurse.
Please do not visit the emergency room for COVID testing.
If you or your child needs a COVID test, we encourage using one of the many non-hospital testing options near you. We ask that you do not visit an emergency department (ED) if you are looking to get tested for COVID.
If your child is ill and needs to be seen by a medical provider, bring them in. We are the kid experts, and we are always available when you need us.
What's the difference between a rapid test and a PCR test?
PCR tests, sometimes called molecular test
Molecular tests, commonly called PCR tests are used to detect the virus's genetic material. They are the most accurate tests for detecting the virus that causes COVID-19.
More information about these tests from the Minnesota Department of Health (MDH):
Given with a nasal swab, throat swab, or by taking a saliva sample.
Used whether or not you have symptoms.
A positive PCR test result is considered a confirmed case of COVID-19.
Antigen tests, sometimes called rapid tests
Antigen tests, oftentimes called rapid tests, look for specific proteins on the surface of the virus, and produce results more quickly than other tests. You can get a rapid test at a testing site, or by using an at-home COVID-19 test.
More information about these tests from the MDH:
Given with a nasal swab.
May not be as accurate, especially for people who do not have symptoms.

False negative result occurs 20-30% of the time. False negative results are when the result says you are negative, when you really do have COVID-19.
False positive results are rare. If the test is positive it is highly likely that you have a COVID-19 infection and are contagious to others. False positive results are when a result says you have COVID-19 when you really do not.
If my rapid test is negative, do I need a PCR test?
If your rapid test is negative, but you have symptoms of COVID-19, consider getting a PCR test or repeating a rapid test in a few days.
Remember that it is important to stay away from others if you have symptoms of illness, even if your COVID test is negative.
If your rapid test is positive you generally do not need a PCR test to confirm.
So, which COVID-19 test should I get for me and my family?
An antigen test is a quick and easy way to see if you are contagious with COVID-19 at the time you take the test. If you have the sniffles or a scratchy throat, and are trying to decide if you should go out with your friends tonight, an antigen test can help you decide.
A PCR test is best when you need a medical diagnosis, when accuracy is highly important, or when a PCR is required by a school or program's policy. Some schools, businesses or programs specify that a negative PCR test is required to participate or to return after illness.
If you are taking the test to be able to return to an activity or school, be sure you understand what the organizations test requirements are.
COVID-19 testing recommendations from MDH
MDH has put together testing recommendations for everyone based on your vaccination status.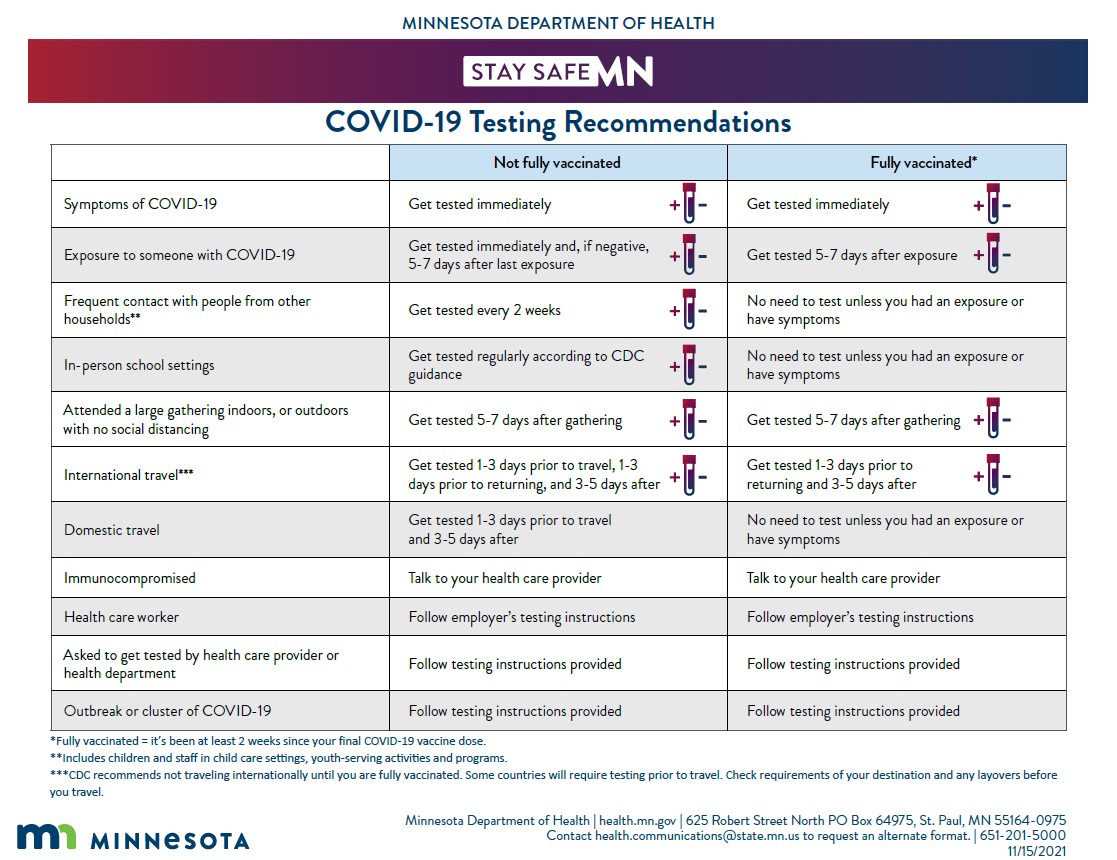 Alexandra Rothstein