Noah shares what it's like to have a medically complex sibling
At Children's Minnesota, everything we do is for the kids. We are always looking for input from the people who matter most – our patients and families. Noah Bachman is 15 years old and has been a member of our Youth Advisory Council (YAC) for four years.
YAC is a dedicated group of patients and siblings of patients, ages 10-18, offering practical ideas on how to help Children's Minnesota focus even more closely on the special needs of children and teens. They are able to voice their ideas and perspectives.
When asked why he joined YAC, Noah says, "I joined YAC because I wanted to improve hospital visits for siblings of patients. My older brother (Markus) is a patient that goes to Children's Minnesota."
About Markus
Noah's brother, Markus, was born with type IV laryngotracheoesophageal cleft. Most babies are born with a trachea and an esophagus that are separated. However, Markus was born with an extremely rare condition where his trachea and esophagus were one continuous tube all the way down through his right lung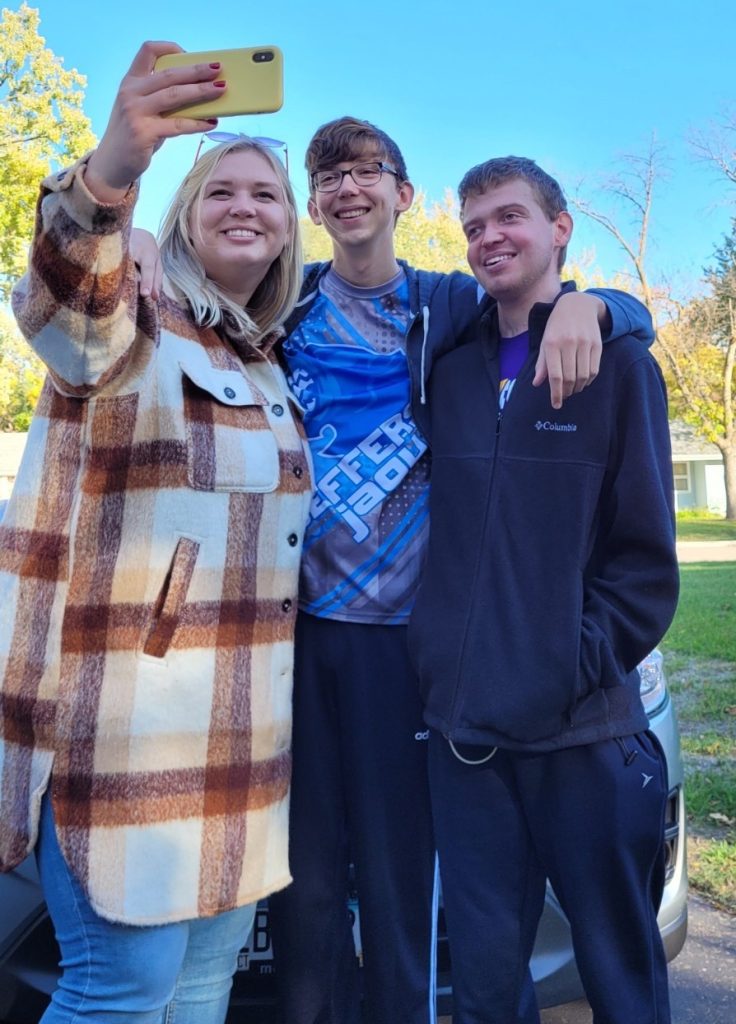 "He has been tube fed his whole life and has significant breathing issues too," Noah described.
Noah's mom and Markus wrote a book together about Markus' life, called "Embracing reMARKable: A Family's Story of Courage, Love, and Hope."
Sharing their story in their own words
Written by: Noah Bachman and Heather Bachman
"Auggie is the sun and we are the planets orbiting him," said Via from the book "Wonder." This is the most applicable analogy that illustrates life with a medically complex sibling. When you are little, everything seems longer and bigger, like the length away from your family home to the magnitude of a surgery or hospital stay.
Our brother is facing another major surgery soon, but it is still as stressful as the first time. So much dread, and this one feels bigger because our family will be spread across multiple states. We know what will happen if he does not have this surgery and the thought of losing our brother is terrifying. He has had countless surgeries and hospitalizations and it never gets easier. You hope that it does, but it never will. It is not like our brother wants this. He knows that his life alters all of ours. If he could change it, he would. We know we would rather have him here with all his medical stuff and yet we wish things were easier for him.
As surgery day gets closer, our parents asked us what helps us during medically tough times.
Family and friends
Being with family and close friends who I do not have to explain the situation to and do not ask a million questions.
Always check in
Check in. We want to hear your voice for a little bit. Not always going to be a fun time. Let us know what is going on even if nothing is going on. We are used to having our parents around. Sometimes I wonder, "Why haven't I heard anything?" Then my mind takes over and thinks of the worst possible case scenario. It is mentally, emotionally and physically exhausting and stressful.
Transparency
If we are not ready to hear the full story, we will tell you. Otherwise, please be transparent, no sugar-coating. We can read right through that.
All in all, we wish it would be easier, but that is not our reality. Our brother has taught us to live in the moment and dream big. And to always remember, anything is possible.
Alexandra Rothstein