Transgender Day of Visibility: What does it mean to be visibly vibrant?
Ever since I was a kid, trying to find my way in a world that seemed not quite built to fit me and my identities, I have been juggling the balance of being seen but not too visible. I have been trying to make sure the world sees me, my skills, talents and potential, without giving the world a chance to punish me for not fitting within the boundaries of the boxes of the sex and gender binary. Having to navigate this balance of my own visibility in both my personal and professional career as a queer and non-binary pediatrician, has helped me understand the struggle that many transgender kids, youth and adults are facing when they make decisions about how visible and open to be about their identities.
While we have done so much over the last decade to improve visibility for the transgender community – who are now represented at all levels of city, state and national government and more out and proud than ever in the entertainment industry – it seems that we are now also up against increasingly powerful forces that seek to erase the existence of trans identities. We are reminded that trans visibility does not equal trans liberation.
The painful reality as we approach Transgender Day of Visibility (TDoV) in 2022 is that trans and gender diverse kids are increasingly being told to NOT be visible.
They are being encouraged to not disclose their identities to teachers, families and coaches.
They are being prohibited from participating in sports with their peers.
They are being denied access to care that they need to grow into their authentic selves.
They are being denied the opportunity to thrive, and for far too many, they ultimately may not survive.
So far, 2022 has been the worst year on record for anti-transgender legislation, many bills specifically targeting transgender and gender diverse kids, and it's only the end of March. Given this reality, how can we help trans and gender diverse kids reveal the full and vibrant spectrum of their identities?
For the last three years, Children's Minnesota has had the privilege of providing comprehensive, gender affirming care to over 450 transgender and gender diverse kids and teenagers in our multispecialty pediatric Gender Health program. Our interprofessional team of medical and mental health care clinicians is dedicated to making sure that all transgender and gender diverse kids have the opportunity to grow up happy, healthy, safe and strong.
Helping trans and gender diverse kids thrive
For many kids and families, our Gender Health program supports trans and gender diverse kids thrive by making sure that we are able to support all of the wonderful and unique traits that make them who they are, including their gender identities and expression, while simultaneously protecting them from a world that often wants them to be invisible or non-existent.
Our clinic supports trans and gender diverse kids find their place, from wearing the clothes that make them feel at home, to finding the haircuts and other forms of expression that reflect who they are, to choosing names and pronouns to introduce their authentic selves to the world.
We help kids and families navigate medical decisions about which, if any, available medical treatments would be a good fit for them.
We support kids and teens social and emotional health as they navigate their own visibility with family and friends, peers at school and their larger communities.
We are here to not just help them be visible, but to help them be vibrant. We want them to show up with all the colors of who they are. We want them to thrive.
And while being a part of the Gender Health Program has been a professional gift and honor for me and our team, the truth is that what transgender kids and their families need now, more than ever, is for our culture to shift in ways that allow them to be safely visible and wonderfully vibrant. And that culture shift doesn't sit within the walls of a pediatric gender clinic, that responsibility lies with each of us.
Be an ally to the transgender community
As we approach Trans Day of Visibility this year, reflect on how you can be an ally to the transgender community.
Are you asking people their pronouns? Do you ever share yours?
How often are you using inclusive gender inclusive terms like "parents" or "grown-ups" instead of "moms" and "dads" or "friends," "colleagues," and "people" instead of "ladies" or "guys."?
When is that last time that you watched a documentary, movie or TV show about the lived experiences of transgender and gender diverse kids or adults? I recommend the documentary "Disclosure" (Netflix) or the TV show "Pose" (FX, Netflix) or the movie "A Kid like Jake" (Amazon).
What books have you read with your kids about gender identity? Try out "Red, a crayon story," "A House for Everyone" or "Julian is a Mermaid." Or "George
Do you know what bills have been proposed to restrict the rights of transgender folx in your state? Go to aclu.org for more information. Can you accurately dispel the myths about transgender athletes? Check out transathlete.com.
This year, to celebrate Trans Day of Visibility, let's reflect on transgender history and recognize and celebrate the trans and gender diverse friends, family and colleagues that we know and love. AND let's also each take some steps, big or small, to make the world a better place for the trans and gender diverse kids who are looking to us to create the spaces for them to safely and powerfully grow up visibly vibrant.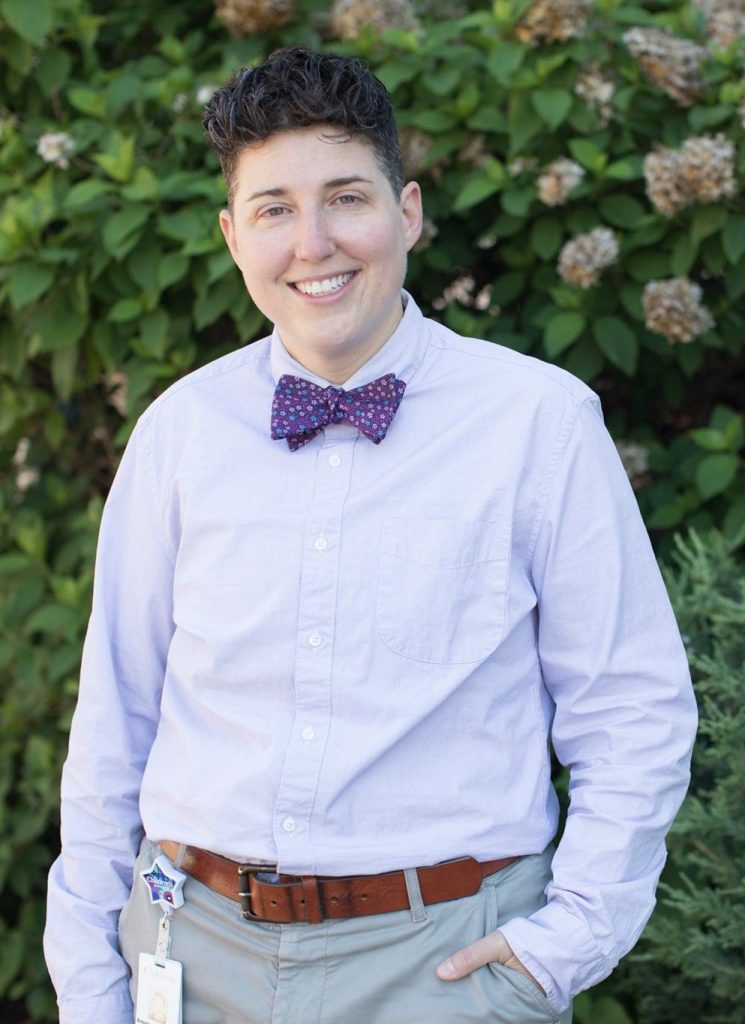 Dr. Angela Kade Goepferd, (they/she)
Chief education officer and medical director of the Gender Health program
Alexandra Rothstein