Mental health

matters

. F

or all kids

.
Mental health matters. Let's rephrase that. Mental health support is critical for all kids. 
You might wonder, why is it so critical and which kids are most at risk? Investing in pediatric and adolescent mental health can literally be lifesaving for some kids. One factor we know that puts kids at risk are their sexual and gender identities, and the perception of their identity by others. This is evidenced by the fact that in the past year, 45% of LGBTQ+ youth seriously considered attempting suicide, according to the Trevor Project. And when you single out transgender and gender diverse kids from their LGBTQ peers, that number rises even higher, nearing 50%.  
As a pediatrician caring for kids in the Gender Health program at Children's Minnesota, I know firsthand how kids, teenagers and their families struggle.  
There are few things more heartbreaking than hearing a young person feel so worthless and hopeless that they contemplate ending their life. There is nothing that quite compares to the fear that I see in parents' eyes as they tell me about their child's latest suicide attempt or the worry that they have about scars showing up on their teenager's body from self-inflicted harm or cutting.  
The escalating rates of anxiety, depression, suicidality and self-harm behaviors are causing lasting psychological damage to our patients and to their families. It's traumatizing for everyone and we need to step up and do more. Kids need our help – and we can each do our part.  
Whether you're a family member, clinician, friend, ally, teacher, coach or loved one: There's always a way to help. 
The importance of pronouns for mental health
Pronouns, or the way we refer to ourselves and others instead of using names, are an important placeholder for both identity and respect. Some people use common binary pronouns like she/her/hers or he/him/his. And for other people, gender non-conforming or neopronouns may be a better fit instead and they may use non-binary pronouns like they/them/theirs or ze/hir/hirs.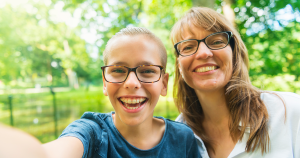 Using someone's preferred pronouns can demonstrate respect and the desire to help create a safe place for them. A study in the Journal of Adolescent Health found that using the correct chosen name and pronouns for transgender youth is linked to lower rates of depressive symptoms, suicidal ideation and suicidal behavior. 
Something as simple as asking for and using someone's correct name and pronouns can have a profound effect on their mental health and well-being. And the more settings that a correct name and pronoun are used (home, school, peers, etc.) the greater the positive impact.  
Support gender-affirming care
No two kids are alike. That's true for all kids, no matter how they identify or who they love. But, many transgender, non-binary and gender expansive kids, teens and adults continue to struggle to find safe spaces to fully express themselves and embody their true identities. 
That's why gender-affirming care is so important. What is gender-affirming care? It's simply care given by clinicians that acknowledges, validates and supports a person's gender identity and exploration. 
Studies show that for young people who identify as transgender, gender-affirming care can decrease behavioral and emotional distress, and have positive effects on body image and overall well-being while reducing thoughts of suicide. 
Gender affirming care is health care. And in some cases, life-saving health care.  
Take the time to learn more about what gender affirming care means and do your part to correct misinformation with friends, family and community members. Your support of gender diverse kids, their families and their care team can make a big difference in making sure that all young people who need it have access to the mental health and medical specialists that can help support their gender journey.  
Children's Minnesota's inpatient mental health unit
We hope that by focusing on everyday actions that help support kids' mental health and make their communities welcoming and safe, that all young people will have the opportunity for the healthy, happy childhood they deserve. That's why we at Children's Minnesota devote ourselves to caring for the physical and mental health needs of kids in our community through programs like the Gender Health program.  
Unfortunately, the reality is that even though we do our best to protect kids and support their mental health, sometimes kids still end up in crisis and families need a safe place to turn. The past few years have seen more and more kids and families in crisis and limited options for places kids and teenagers can stay while they stabilize to return home.  
That is why Children's Minnesota is continuing to do our part by opening our first inpatient mental health unit in November 2022. This inpatient mental health unit will provide a safe, inclusive and welcoming environment for all kids and their families to work with our mental health Kid Experts as they transition from crisis to long term support in their communities. 
No matter what, we will continue to support kids in being their authentic selves. We will continue to help them with their mental health, regardless of their gender expression, their gender identity or who they love. Because at the end of the day, all kids deserve to thrive.  
Alexandra Rothstein