Echo

sonographer

shares

h

er

f

our

-year

career experience at Children's Minnesota
At Children's Minnesota, we believe children always come first. They are awesomely resilient. Eternally optimistic. Totally fearless. They are what we want to be when we grow up. 
Kelsey Peterson, echo sonographer in our cardiovascular program, has been working at Children's Minnesota for four years now. She is sharing all her favorite things about working at Children's Minnesota below. 
What is your position and how long have you been at Children's Minnesota?
"I'm an echocardiographer and I've been working at Children's Minnesota for about four years now."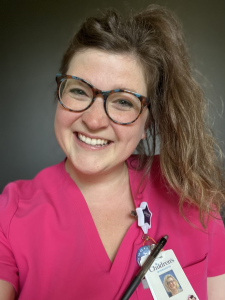 Tell us why you like your job and position.
"The best part of my job is THE KIDS! I love that working in pediatrics means that all in one day, I could be calming a newborn, giggling with a toddler and discussing life goals and dreams with an 18-year-old. I love being able to meet each patient where they are at and providing a space where the patient and family feel comfortable, welcomed and well taken care of." 
What do you like about working in this field/department?
"Besides engaging with amazing kids, I love pediatric echocardiography because there is always more to learn! Scanning a new complex heart disease is like trying to put together a puzzle. I love working in collaboration with our amazing team of cardiologists to figure out a patient's anatomy." 
Why do you like working at Children's Minnesota?
"I'm grateful to be a part of an organization that values growth. Children's Minnesota is constantly working towards being the best we can be for the kids that we serve." 
Join the team!
Children's Minnesota is seeking qualified candidates to join our team! 
View our open position: 
Mai Songsawatwong