John's journey: North America's first neurosurgery suite of its kind sets stage for boy's brain tumor removal procedure
In May 2023, John Decker eagerly counted down the days until his golden birthday when his age, 9, would match the same day in May when he was born. For the boy who loves turtles, telling jokes and old cars – the countdown to May 9 took an unexpected turn.
It all started a few months before John's birthday when his parents – Stacy and Christopher – noticed their son's left hand would cramp into a fist and he could not wiggle the toes on his left foot. The symptoms led John's pediatrician to refer him to Children's Minnesota where he had an MRI just a week before his birthday.
"I was thinking it could be a little tumor, or brain aneurysm, or a stroke," Stacy, a school nurse, recalled.
While still in our Minneapolis hospital waiting room, John's parents got a call from the radiologist examining John's MRI in real time. The scan detected a golf-ball size tumor on the right side of John's brain near the thalamus, the area of brain that acts as a relay center for a wide variety of brain pathways including motor functions.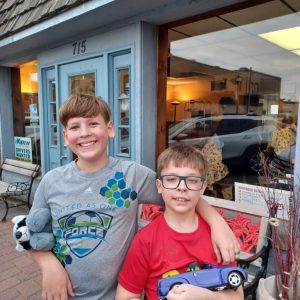 "For me it was shocking, emotional," Christopher, a firefighter, said about his son's diagnosis. "Responding to calls as a firefighter, you've seen the worst, so you start thinking to yourself what was the huge severity of the scan that warranted a phone call that would soon put our son in the emergency room."
"It was hard," Stacy explained. "We didn't know how to tell our son since he was only 8 years old."
As the parents received the news, the radiologist on the other end of the phoneline was already putting together a care team. The Children's Minnesota Child Life team also met with John to explain his diagnosis in kid-friendly terms.
"They were awesome," Stacy said of the Child Life team.
The Decker family was quickly admitted to our Minneapolis hospital and soon met neurosurgeon Dr. Kyle Halvorson. The family also spoke with experts in oncology as well as the neurosurgery and critical care team to develop an immediate care plan. Dr. Halvorson explained his plan to safely remove as much as possible of John's large tumor and how a new neurosurgery facility at Children's Minnesota would play a key role in the procedure.
Just two months before John's diagnosis, Children's Minnesota opened the first pediatric hybrid intraoperative magnetic resonance imaging (iMRI) neurosurgery suite of its kind in North America. Here, Children's Minnesota's neurosciences program and radiology department use the suite to perform both brain and total spine scans mid-procedure all within the same surgical space. Based on each MRI scan's results, surgical decision making occurs in real-time directly at the point of care. The benefits of this ability are numerous for patients like John.
"It was a comforting moment knowing this machine gives John's neurosurgery team the advantage to remove the tumor more safely, to be a little less invasive, it was exciting to hear that," Christopher recalled.
Read more about what makes Children's Minnesota's iMRI neurosurgery suite the only one of its kind in North America, and how the facility is helping improve patient outcomes.
With the care plan now in-place, John was safely able to go home to celebrate his golden birthday with friends and family. The now-9-year-old returned to the hospital the very next day for brain surgery.
"Our family prayed the rosary and talked to pass the time in the waiting room," Christopher said while also recalling how he got consistent updates from the surgical team. "To get those phone calls too, it was a relief."
Those crucial updates were coming from inside the cutting-edge neurosurgery facility called the Richard M. Schulze Family Foundation iMRI Surgical Suite. It shares the same name as the philanthropic foundation that generously committed a $5.5 million lead gift to the iMRI suite.
Part of the design of the three-room iMRI suite allows experts to seamlessly move a 16,200-pound MRI scanner directly into one of its operating rooms via a ceiling-mounted rail system. The high-power scanner then takes crystal-clear images – mid-procedure inside the same sterile environment – to confirm if an entire tumor is removed to help eliminate the need for future brain surgeries. John was our eleventh patient to have a procedure in this state-of-the-art facility in only three short months of operation.
Just five hours after John's brain surgery began, Dr. Halvorson updated the anxious parents.
"The scan they did showed everything they can get out, they did get out, Dr. Halvorson was confident he got it all," Christopher explained while adding tests confirmed his son's large brain tumor was benign.
In the recovery room, John's parents saw changes almost immediately that they say continued in the Children's Minnesota pediatric intensive care unit (PICU).
"When he was out of surgery, he could start to move his toes on his left foot," Stacy said. "It was something so simple, but for me it was huge excitement and emotional moments to see his toes move. His left hand was relaxed and not cramping up, it was awesome to see how brave our son is."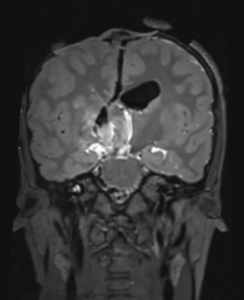 John went home a few short days after his brain surgery. He's currently undergoing physical therapy and occupational therapy at Children's Minnesota. He'll also have to undergo semi-annual MRIs to make sure the brain tumor does not grow back. So far, the scans have been clear of any regrowth.
Now nine years old and brain tumor free, John's getting back to his old self. He's telling jokes and even playing with his new pet tortoise he got as a golden birthday present. He's also looking forward to returning to the soccer field once his care team gives the OK.
An opportunity to support the iMRI suite and Children's Minnesota
John shares his story with KSTP
Talking iMRI on Becker's Healthcare Podcast
Dr. Meysam Kebriaei, medical director of Children's Minnesota's neurosurgery program, recently spoke about the cutting-edge iMRI suite on the Becker's Healthcare Podcast, listen here.