Crema anestésica (LMX4®, Curacaine®)
Article Translations: (English)
¿Cómo funciona este medicamento?
La crema de lidocaína 4% es un anestésico local que ayuda a reducir el dolor durante cualquier procedimiento con aguja, como la colocación de una vía intravenosa, una inyección o durante una extracción sanguínea. Si además de aplicar esta crema se coloca al paciente en una posición cómoda y se le distrae, se reducirá el dolor o la molestia durante el procedimiento. Para una mayor eficacia, debe aplicarse y permanecer en la piel de 20 a 30 minutos antes del procedimiento. Se puede dejar hasta por 120 minutos.
¿Cómo debo preparar a mi hijo?
Explíquele que se le aplicará la crema en la piel y que se cubrirá mientras hace efecto. Esto pudiera hacerse con un apósito transparente como el de la marca Tegaderm® o con una envoltura de plástico. Justo antes del procedimiento, se le quitará la cubierta y se limpiará la crema. Si se le cubrió con Tegaderm®, el niño podría sentir como cuando se le quita un curita. Aunque el efecto dura hasta por una hora después de quitar la crema, el niño pudiera sentir todavía algo, por ejemplo, presión.
¿Cómo se aplica la crema?
*Antes de aplicar la crema, consulte al personal médico para que le ayuden a determinar el sitio correcto de aplicación. Lave y seque el sitio antes de aplicarla y no lo haga en una herida abierta, tal como en una cortadura o un rasguño.
*Para recibir ayuda para escoger el sitio correcto de aplicación, llame al:
Siga estos pasos para aplicar la crema:
Utilice la punta de la tapa para romper el sello del tubo.
Aplique la cantidad correcta de la crema en cada sitio cuidando de no poner más de lo indicado.
___ Si el niño pesa menos de 22 libras, aplique lo del tamaño de una moneda de 10 centavos (dime)
___ Si el niño pesa 22 libras o más, aplique lo del tamaño de una moneda de 25 centavos (quarter)
Cubra el área con una envoltura de plástico o con el apósito Tegaderm® para mantener la crema en su lugar y prevenir que entre en contacto con la boca o los ojos del niño. Si utiliza Tegaderm®, quite la pieza de papel del centro y deje solamente el marco.
Despegue la cubierta.

Sostenga el apósito por el marco de papel y cubra la crema. No presione el centro, ya que la crema no debe extenderse (funciona mejor si queda una capa gruesa).

Pegue bien los bordes del apósito.
Retire el marco de papel.

Repita estos pasos en la otra área (si la hay).
Anote la hora en que puso la crema. La crema tiene mayor efecto si no se toca. No permita que su hijo muerda, chupe o juegue con ella.
Si la crema se sale por debajo de la cubierta, límpiela con una toalla. Evite el contacto con la boca y los ojos. Enjuáguese con agua las manos después de aplicarla.
¿Cuáles son los efectos secundarios?
Si se aplica de acuerdo con las instrucciones, la crema anestésica tiene pocos efectos secundarios.
Es normal que quede una mancha blanca en la piel de manera temporal.
Pudiera ocurrir comezón, enrojecimiento o salpullido. Si esto ocurre, limpie la crema y notifíqueselo al médico para que le den instrucciones.
¿En qué circunstancias se deberá llamar a la clínica?
Si tiene alguna duda respecto al sitio de aplicación (por ejemplo, si tiene un rasguño o una cortada o no sabe dónde ponerla).
Si aparecen signos de reacciones adversas en la piel tales como enrojecimiento, comezón o salpullido.
En caso de ocurrir contacto con la boca o los ojos del niño, enjuague inmediatamente con agua simple y llame al médico.
Llame al 911 si hay señales de reacción alérgica:
fiebre o escalofríos
urticaria, hinchazón
sibilancia
dificultad para respirar
¿Qué más necesito saber?
No necesita receta para esta crema. Se puede adquirir en las farmacias del Hospital y las Clínicas Children´s de Minnesota, así como en las farmacias locales.
Revise la etiqueta y la fecha de expiración antes de administrar cada dosis. Pregunte a su farmaceuta qué hacer con los medicamentos caducados o no usados. Si no existe un programa de recolección de medicamentos, vierta el contenido del envase en la basura.
Guarde los medicamentos, incluyendo la crema que le sobre, en su envase original con la tapa bien cerrada, lejos de la luz solar directa y del calor. No los guarde en lugares húmedos, como el baño. Manténgalos fuera del alcance de los niños, bajo llave si es posible.
Si el niño recibe una dosis mayor de la indicada o un medicamento equivocado, llame al Centro de Toxicología (Poison Control Center) al 1-800-222-1222.
Este folleto sólo le ofrece información general; no es específico para su hijo. Si tiene alguna pregunta, llame al médico o al farmaceuta. Si desea que venga alguien para apoyar al niño durante el procedimiento, llame al Departamento de Vida Infantil.
Dónde aplicar la crema anestésica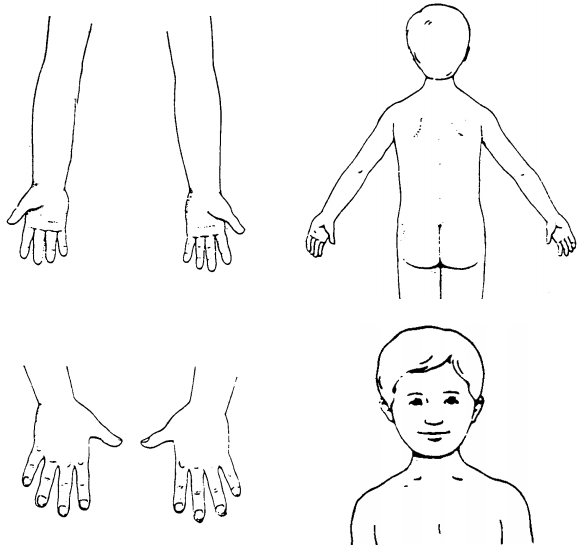 Instrucciones adicionales: (Other instructions)
 Last reviewed 8/2015 ©Copyright
This page is not specific to your child, but provides general information on the topic above. If you have any questions, please call your clinic. For more reading material about this and other health topics, please call or visit Children's Family Resource Center library, or visit www.childrensmn.org/educationmaterials.
© 2019 Children's Hospitals and Clinics of Minnesota