Period Stories: Meet Rachel Kauder Nalebuff
There's no period like your first period.
That's the message sent loud and clear in My Little Red Book, a collection of 92 first-period stories by Rachel Kauder Nalebuff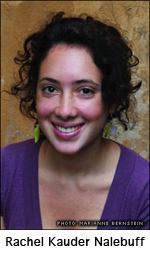 Nalebuff, 19, initially pulled the stories together as a senior project for high school. But with a little help, her project turned into a real book.
Waterskiing + Period?!
It all began when Rachel got her own first period during a waterskiing outing with her grandfather. Not exactly the companion or the attire (yellow swimsuit) any girl would choose for that particular moment.
Stranded without supplies, Rachel improvised with paper towels and attempted to return to the waterskiing.
"Let's just say that waterskiing while trying to cover your butt could be classified as a new kind of dance," Rachel writes in the introduction.

She eventually reached her mom, and her grandfather drove her to the drugstore. Rachel survived and she's here to tell girls that they need not feel alone or ashamed. Millions of women have come before you and millions more will follow.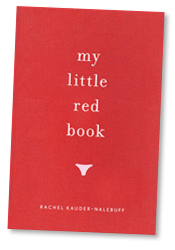 As Rachel puts it, "even your bingo-playing grandma was once in your same situation." The identities of the 92 women give the book its heartbeat; they include:
Louise Story, reporter for The New York Times
Thelma Kandel, artist
Elli Foster, top-20 squash player
Rebecca Wexler, freelance filmmaker
Ilene Lainer, founder of the New York Center for Autism
Pearl Selinsky, retired schoolteacher
Jacquelyn Mitchard, best-selling author
Maxine Kumin, former U.S. Poet Laureate
Cecily von Ziegesar, author of the Gossip Girl series
Deo Robbins, environmental activist
Bita Moghaddam, neuroscience professor
Let's Talk About It
So all these women got their periods and lived to tell the tale. And we know it's a normal and natural thing. Yet the the subject still causes such embarrassment — why?
"I think it all has to do with the fact that we don't talk about it," said Rachel, who will start college in the fall.
Some girls know so little about how their bodies are supposed to work that they think they're dying when they get their first periods. (Several stories in the book verify that.) Also in the book, one woman tells of being given just a box of supplies, no explanation.
But Rachel doesn't want only girls and women to speak more freely about periods. She thinks boys need to know more about them. Boys!? She explains: If boys knew more, maybe it would be less embarrassing for girls.
"Fifty percent of the population doesn't know what's going on," she said. "Educated men and boys will make better friends, boyfriends, and dads."
Tears and Laughter
Some stories in the book are sad. Rachel's aunt tells the story of getting her period during World War II as a young Jewish girl fleeing Poland. Another writes how losing a loved one affected her first period moment.
And one of Rachel's classmates, Thatcher Mweu, writes about how lucky she was to have sanitary supplies in her native Kenya. Girls who don't have them in Africa often stay home from school during their periods "and if you miss school for that long, everyone knows why," she writes.
All of the proceeds from the sale of My Little Red Book will go to women's and girls' charities, including some that are trying to provide sanitary supplies in less-developed countries. The book's raised $85,000 so far.
"Girls end up missing a week of school per month," Rachel said. "That's 20% of a rightful education lost to that problem."
Yet plenty of the period stories remind us that the whole situation can be funny. It's natural and normal, yes, but the first period also has a lot of comic possibilities. There's the element of surprise — poor Rachel in the middle of waterskiing! And there's always confusion, especially for newbies.
Contributor Barclay Gang writes that when she got her first period one Thanksgiving, she wondered aloud if there was any way that cranberry sauce had somehow infiltrated her underwear. Writer Patty Marx titles hers "Can I Just Skip This Period?"
Beyond "The Curse"
And then there are all the funny names for periods. You may have heard "The Curse" and "Aunt Flo." But Rachel's list stretches over two pages. There's "Big Red," "Falling Off the Roof," "Getting My Friend," "Miss Dot," "Cleanup on Aisle One," or Rachel's personal favorite: "Arts and Crafts Week at Panty Camp."
With honesty and humor, Rachel hopes more girls will feel fine about their periods, even if they don't want to go public and share stories about them. She also hopes that girls will see how the drama fades as time goes by. It comes, you figure it out and move on.
"Maybe 10 years from now, you won't even remember what a big deal you thought it was," Rachel said.
Though she earned the nickname "the period girl" while working on this project, Rachel too is moving on to different topics. She took a gap year — a year off between high school and the start of college. In the spring, she was at a writers' workshop in California. She also went to culinary school because she loves cooking. She's not 100% sure, but she thinks she wants to be a writer. And she'll write about stuff other than periods!
Reviewed by: Mary L. Gavin, MD
Date reviewed: October 2012
Note: All information is for educational purposes only. For specific medical advice, diagnoses, and treatment, consult your doctor.
© 1995-2022 KidsHealth ® All rights reserved. Images provided by iStock, Getty Images, Corbis, Veer, Science Photo Library, Science Source Images, Shutterstock, and Clipart.com