May also be called: Painful Urination
Dysuria (dis-YOOR-ee-ah) is painful or difficult urination.
More to Know
Urine (pee) is stored in the bladder. When we urinate (pee), urine exits the body through a tube called the urethra. If there's an infection or inflammation somewhere in the urinary tract, a person might feel a burning, painful sensation.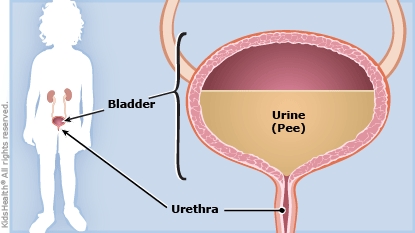 Some causes of dysuria include kidney stones; sexually transmitted infections (STIs, also called sexually transmitted diseases, or STDs) like genital herpes; vaginal infections; certain medications; irritants like certain soaps or bubble baths; and prostate inflammation.
A urinary tract infection (UTI) should be treated with medication.
Keep in Mind
Dysuria is a fairly common condition and an isolated episode of painful urination usually is not a cause for alarm. If it persists, is severe, or is associated with other symptoms like fever, blood in the urine, or vomiting, contact your doctor.
All A to Z dictionary entries are regularly reviewed by KidsHealth medical experts.
Note: All information is for educational purposes only. For specific medical advice, diagnoses, and treatment, consult your doctor.
© 1995-2023 KidsHealth ® All rights reserved. Images provided by iStock, Getty Images, Corbis, Veer, Science Photo Library, Science Source Images, Shutterstock, and Clipart.com