A dislocation is when the bones in a joint slip out of their normal position. A dislocated thumb may happen from a fall, blow, or sports injury, especially if the thumb is bent back or jammed.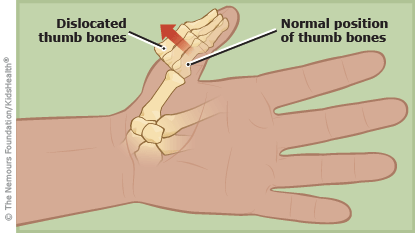 More to Know
An X-ray is usually used to diagnose a dislocated thumb. The bones may move back into place on their own or a doctor may gently put the joint back with a quick maneuver called a reduction. In some cases, surgery is needed to repair the joint.
To keep the joint from dislocating again, a splint is put on the thumb (the splint might later be changed to a cast). The splint or cast is worn for a few weeks while the thumb heals. Also, a sling (sleeve to hold the arm up) may be fitted to help with swelling.
Keep in Mind
With proper treatment, most people who dislocate a thumb can gradually return to their normal activities. The thumb may feel sore or stiff for a while.
All A to Z dictionary entries are regularly reviewed by KidsHealth medical experts.
Note: All information is for educational purposes only. For specific medical advice, diagnoses, and treatment, consult your doctor.
© 1995-2023 KidsHealth ® All rights reserved. Images provided by iStock, Getty Images, Corbis, Veer, Science Photo Library, Science Source Images, Shutterstock, and Clipart.com