Your donations make it better. For Minnesota kids.
Your donations make it better. For Minnesota kids.
Your donations make it better. For Minnesota kids.
With your help, we can provide all the little things that help a child smile when they're in the hospital. And we can provide the big things, like cutting-edge technology and innovation — the kind that saves lives. With your help, we can surround our patients with healing therapies and support services that keep their families strong when they need it most.
Give Now
Your donation, no matter the size, makes a big difference.
Virtual Toy Drive
With your support to Children's Minnesota's virtual toy drive, our amazing child life specialists will purchase the most needed gifts toys, books, games and more — and match them to each patient.
While we typically receive so many wonderful in-kind donations from the community during the holidays, we don't always get the most needed items that match our patients' needs, ages and interests. By donating directly to our virtual toy drive, you'll enable our team to get exactly the right gift for each child at the right time. We can also restock playrooms, cheer up patients after a hard day, and celebrate birthdays, milestones and other holidays all year long.
Learn more about how you can participate in the virtual toy drive here.
How your gifts make a difference
Our patients' stories make it clear: your donations power the most specialized, compassionate and made-just-for-kids care.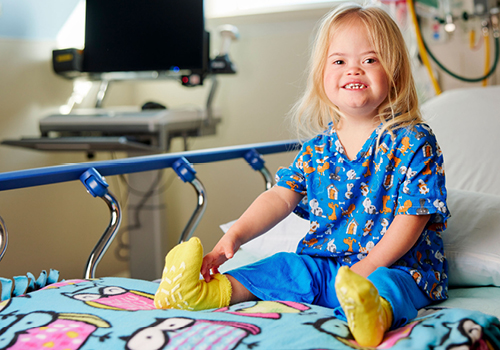 Tallulah
When she was just 3 weeks old, Tallulah had a serious heart defect repaired at Children's Minnesota. Two years later, she was with us again for spinal surgery and help with congenital hearing loss. Since then, she's grown into an active preschooler who still comes to see us regularly, visiting our experts in cardiology, neurology and physical therapy. Her highly specialized medical care comes with wrap-around services such as child life and music therapy, programs that provide comfort and healing. Donations make it possible.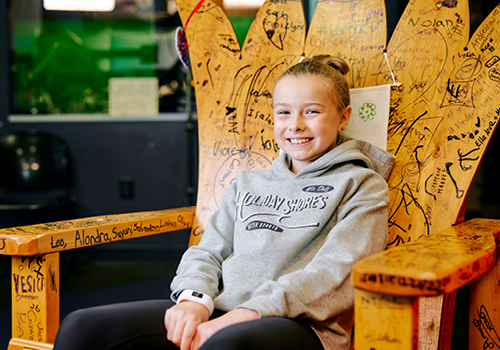 Kylie
Throughout Kylie's cancer journey, which began in 2019 when she was diagnosed with acute myeloid leukemia or AML, donor-funded programs at Children's Minnesota have given her plenty of reasons to smile. Star Studio, our in-house TV station, entertained the whole family during chemotherapy (Kylie especially loved bingo with the Dude). She and her family bonded with our Geek Squad team, who provided plenty of video games during their stay. Today, Kylie's in remission, and her family is grateful for the extra-special care their daughter received — and the community who donated to make it possible.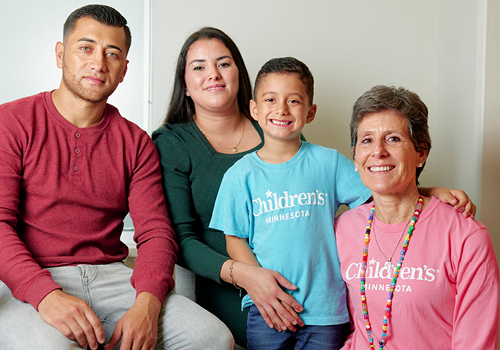 Mateo
Five-year-old Mateo is active, cheerful and affectionate. He's also brave: for the last year he's had countless blood draws — and a few hospital stays — due to ITP, a blood-clotting disorder. His loving family has been with him every step of the way, as has Patricia Santos, a bilingual patient advocate at Children's Minnesota. The role of advocate extends far beyond interpreting, helping families with limited English proficiency navigate the cultural challenges of a complex medical journey. This support is absolutely vital to patient families — and only possible with the generosity of our donor community.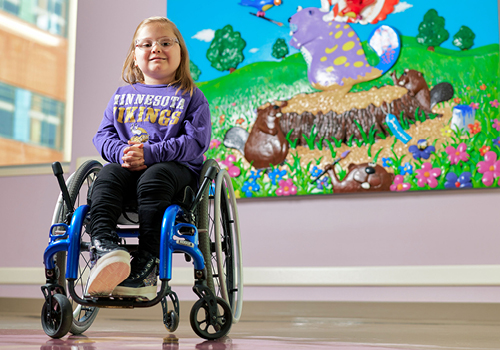 Clara
Clara has been part of the Children's Minnesota family since before she was born. Diagnosed with spina bifida in utero, she and her mom underwent a groundbreaking fetal surgery in 2016 to partially repair the neural tube defect (an early intervention that leads to better outcomes and brighter futures). Now 7 and active in adaptive sports, dancing and singing, Clara comes to us often for ongoing care, primarily from our neuroscience experts. She loves interacting with the child life team, music therapy and Star Studio. This wrap-around care, funded by donations, helps kids feel like kids, even in the hospital.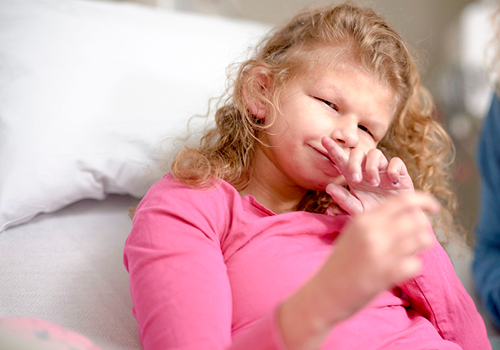 Anna
Anna is a middle schooler from Lakeville who loves to watch her favorite TV show, Wheel of Fortune. Born with an extremely rare chromosomal anomaly, she has relied on the highly specialized expertise of multiple care teams at Children's Minnesota for more than a decade. Anna and her family also depend on the support services that donors make possible, everything from child life to social work to sibling play areas. Your donations help not just our patients but moms, dads, brothers, sisters — for weeks, months and even years.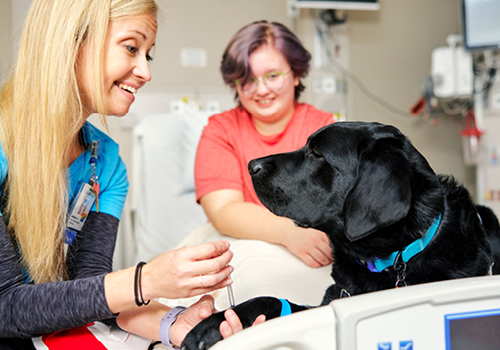 Riggs
Without the support of our philanthropic community, we wouldn't have Riggs, our first official medical dog, on staff. The 2-year-old lab/retriever mix serves patients at our St. Paul hospital alongside his handlers, who are child life specialists. More than a therapy dog, Riggs has undergone extensive training to help patients reach their medical goals. Devoting a full 40 hours a week, the gentle, intuitive dog is often called in to help patients cope during procedures, ease their breathing, or show them how to take their medicine. Thanks to Riggs — and our donors — we can make the hospital experience so much better for kids.
Your donation, no matter the size, makes a big difference.
Your donation to Children's Minnesota, no matter how small it may seem to you, makes a big difference to the kids we care for. As a nonprofit health system, we rely on the generosity of our community.
No child turned away
Every child we meet gets the best care, regardless of their ability to pay. Nearly half of our patients rely on Medicaid, which reimburses only 70 cents for every $1 of services. Donations cover the rest, which adds up to millions of dollars every year.
Supportive care services
Your donations fund unique care programs that support healing and lead to better outcomes. These programs are not reimbursed by insurance and don't show up on a patient's bill.
Clinical excellence
With your gift, we can continue to deliver world-class medical care and keep up with the latest innovations. You help us invest in cutting-edge technology, facilities and research, all of which have the power to change — and save lives.
Why give to Children's Minnesota?
What is Children's Minnesota?
Children's Minnesota is an independent, not-for-profit health care system. We've been serving the community since 1924. Along with our two free-standing hospitals (one in Minneapolis and one in St. Paul), we have nine primary and specialty clinics and six rehabilitation clinics.
We care for over 135,000 kids each year and are the seventh largest pediatric health system in the country. We're the only health system in Minnesota to provide care exclusively to children, from birth through young adulthood.
Is Children's Minnesota a nonprofit?
Yes. Children's Minnesota is a not-for-profit, charitable organization with 501(c)(3) designation from the IRS. That means we reinvest any profits back into the organization so we can keep improving care for our patients.
What is Children's Minnesota doing to advance health care?
Everything we can. Research is one of the most important areas of focus for us, and we're constantly looking for innovations that are completely kid- and family-focused. From improving day-to-day quality of life for children and teens to adopting cutting-edge technologies, we will never stop looking for better ways to serve kids.
We're proud of the recognition we receive for advancing health care. Children's Minnesota and its staff are regularly awarded for excellence in care, quality, innovation and industry leadership. We are an award-winning health system, regularly ranked by U.S. News & World Report as a top children's hospital.
What makes Children's Minnesota unique?
Caring for kids involves more than expert medical care.
Whether it's a child life specialist at the bedside to calm nerves, music therapy to boost mobility or interpreter services for non-English-speaking families, child and family services helps ease the fears, anxiety and stress of being in the hospital. We provide a continuum of support, information, education, comfort and connection to help patients and families navigate and actively participate in their health care experiences.
This attention to detail, comfort and care is not found at every health care facility. It's only available at Children's Minnesota because of generous support from donors. These programs are not reimbursed by insurance and don't show up on a patient's bill.
Why does a hospital need my donation?
We never turn a child away. Ever. Thanks to donations, all patients and families have access to the best physicians, treatments and wrap-around services, regardless of their ability to pay for care.
Forty-seven percent of our patients rely on Medicaid, which reimburses only 70 cents for every $1 of service. Because of this, Children's Minnesota makes up the difference. We need to underwrite nearly $90 million of unreimbursed care each year.
How are donations used?
At Children's Minnesota, your donation is spent on the kids and families we serve. As an independent, nonprofit health care system, philanthropic support allows us to reinvest in our organization and continue to improve and reimagine health care. To find out more about how our funds were used in 2021, check out Children's Minnesota's Annual Report (opens in new tab).