Nora's neurosurgery: Children's Minnesota's neurosurgery program stops a little girl's epilepsy
'I had a tingle in my right arm'
Nora is an 8-year-old girl who loves to dance, do gymnastics and ride her bike. However, the joys of a bike ride or even playing with friends were suddenly overshadowed by severe epilepsy.
In May 2020, during the first wave of the COVID-19 pandemic, Nora's world turned upside down in kindergarten. Nora's mom, Tina, says she may have witnessed her daughter's first seizure during a distance learning activity. Over the course of the next 18 months, the family says Nora had at least 16 seizures that they knew about.
"The first 16 seizures, Nora could feel them coming on," Tina explained. Nora described it saying, "I had a tingle in my right arm, I couldn't do anything about it."
"She would sit down or lay on the ground," Tina described. "She could talk through them. Her right hand would make a fist, her right arm would go straight, sometimes her right eye would blink."
Tina added throughout this phase of Nora's epilepsy, she was never physically hurt during these reactions to what's called a focal onset aware seizure. Nora could even laugh at her grandfather's jokes mid-seizure that he told her to ease the stress of each episode.
Nora's seizures become more severe
Nora's family immediately sought answers after her first seizure in May 2020. They brought her to Children's Minnesota and met with experts at Minnesota Epilepsy Group (MEG), including Dr. Douglas Smith. Children's Minnesota and MEG are designated a Level 4 epilepsy center, which means it offers the highest level of diagnosis and treatment options for children with epilepsy.
Nora stayed the night in the hospital. There, she underwent an Electroencephalogram (EEG) test that uses a special machine to measure brain waves. The results confirmed she had epilepsy, and she returned home with a plan to start medication to control the seizures.
Less than a week from returning home from the hospital, Nora's family visited her grandparents' cabin. There, Nora had her first tonic-clonic seizure. This type of seizure forced Nora's muscles to stiffen and jerk as she choked on her own saliva.
"It was the scariest thing I saw in my life," Tina said.
Nora's doctors at MEG put her on two medications to help control her seizures throughout 2020 and 2021. As the calendar turned to 2022, warning signs appeared that her epilepsy was worsening.
On New Year's Eve 2021, Nora had a seizure so severe it dropped her to her knees with no tingling sensation as a warning sign. These unpredictable seizures continued throughout the year. They were becoming so dangerous that in March 2022, Nora fell out of a chair and broke her elbow. During a week-long stay at Children's Minnesota for testing, an EEG scan detected she had about 80 seizures over four days.
"I was kind of sad because I couldn't see my sister and my dad [while having the tests]," Nora said while complimenting her care team and the therapy dogs that visited her room.
An MRI eventually pinpointed where Nora's seizures were coming from. The scan also revealed she was born with cortical dysplasia, a condition caused by a group of abnormally formed cells in the brain. It's one of the most common causes of focal epilepsy.
"The doctors told us that as Nora grew and her brain changed, that part of her brain with cortical dysplasia now is being triggered and causing the seizures more often," Tina said. "That's when we first learned brain surgery would be required, as the condition cannot be controlled with medication."
Nora's family began discussing options with Dr. Meysam Kebriaei, medical director of neurosurgery at Children's Minnesota. After receiving a second opinion at a different health care system, her family decided the best course of action was neurosurgery with Dr. Kebriaei.
"My husband left our meeting with Dr. Kebriaei and said, 'This is where we need to be,'" Tina recalled.
Nora's journey continues
The decision to pursue brain surgery may feel like the end of the journey, but it actually was just the beginning. She needed more testing in addition to the two EEGs and MRIs she already had performed. Her doctors recommended a special form of imaging called magnetic source imaging (MSI). She had a specialized MRI that showed where important nerve fibers were that control her muscles. She had a learning assessment performed to ensure that the other parts of her brain were functioning normally.
"I was concerned that the seizures were coming from part of the brain that control her muscles," Dr. Smith, Nora's treating epilepsy doctor, explained. "I wanted to make sure that we weren't just stopping her seizures, that we were also giving her the best possible outcome."
This meant an extra step called stereo-EEG, the most advanced form of epilepsy testing available.  This involves a procedure where electrodes are placed inside the brain.  During this test performed at Children's Minnesota, Dr. Smith was able to precisely identify where Nora's seizures were starting.  He could also reassure the family that Nora should recover without problems.
Nora's neurosurgery
On Jan. 10, 2023 – nearly two years to the day since Nora's first severe seizure – Dr. Kebriaei performed a craniotomy procedure. The neurosurgeon removed a portion of Nora's skull to create a temporary opening to remove the part of the brain sparking the seizures. The surgery was performed with two epileptologists from MEG present to make sure the operation was a success.
"It was the first day in over a year we felt at peace. I remember sitting in the pre-op room knowing she was in the best possible hands," Tina said. She also said knowing Children's Minnesota is a Level I Children's Surgery Center gave her additional peace of mind.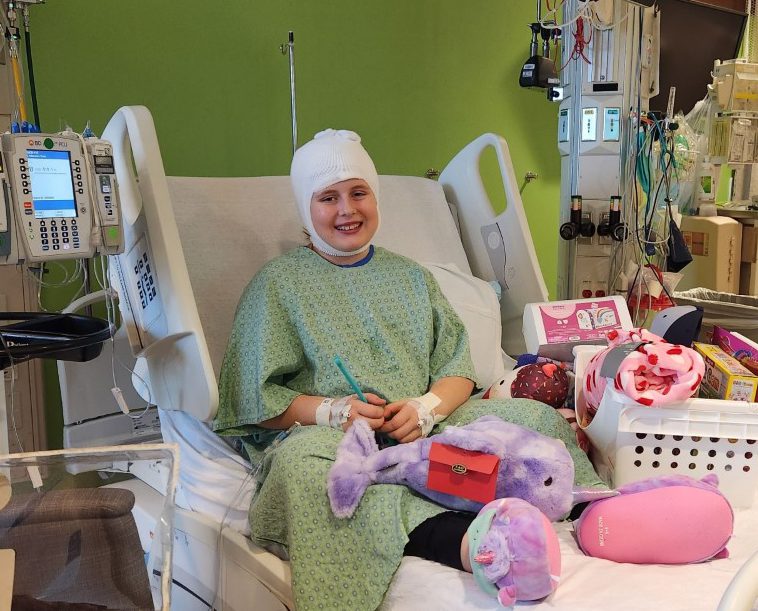 Since the procedure, Nora has not had a single seizure. She's working with her MEG care team to be weaned off all of her seizure medications.
"My brain feels more calm," Nora said.
"She's doing fantastic, absolutely fantastic," Tina said with a smile.
Nora got to go home from the hospital just two days after her craniotomy. She's now playing outside more and in the process of returning to school full-time. She'll continue her follow-up care with MEG for now, and her family hopes that Nora will get the 'all clear' from her neurosurgery team in July 2023.
"I'm happy to be able to ride my bike again, dance and do gymnastics again after I get the all clear," Nora said. "I also want to train my puppy to be a therapy dog like the ones that visited me in the hospital."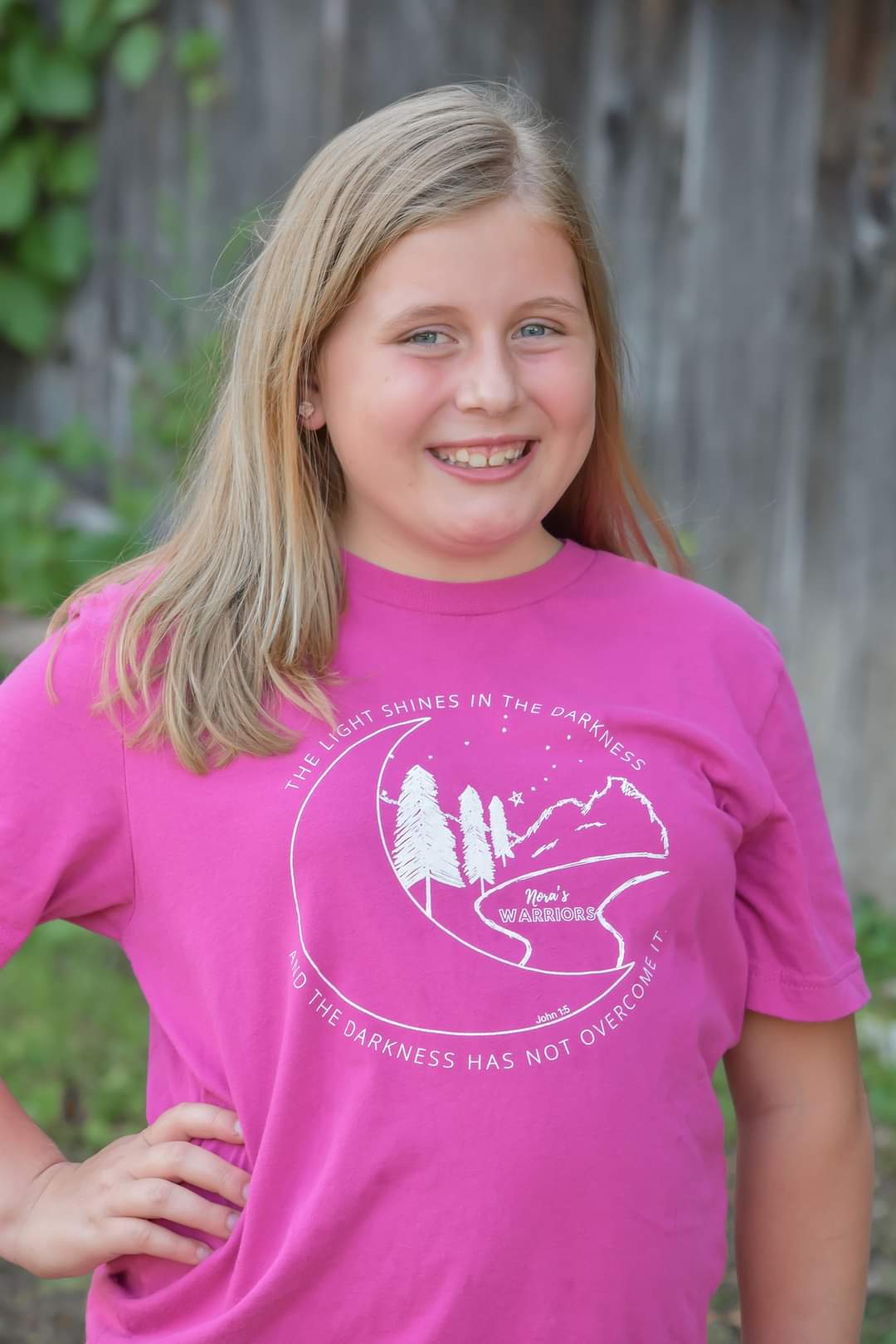 Nora shares her story with KSTP-TV
Cole Heath