Harriet's heart: the Midwest Fetal Care Center helps baby defy rare tumor diagnosis
A cold Iowa day in January 2022 was supposed to be a time of celebration for Hannah Kendrick. But, instead of celebrating her birthday – the first-time expecting mom and her husband, Josh, spent the day with a maternal-fetal medicine specialist close to their home outside Des Moines.
The couple already knew after their 20-week ultrasound appointment that fluid was building around their unborn daughter's heart. Now, they nervously waited to meet with Dr. Oscar Viteri at UnityPoint Health Perinatal Center for an official diagnosis. Dr. Viteri told the new parents their daughter, Harriet, had a large tumor growing on the outside of her heart.
"Josh and I waited nine years into our marriage before having a child. We were absolutely elated when I got pregnant with Harriet and just as equally terrified when we received her diagnosis," Hannah said.
This extremely rare diagnosis – called a pericardial teratoma – meant a large, unpredictable, tumor could compress Harriet's heart and cause it to fail. The condition is so rare that from 2000-2020, only 55 fetal pericardial teratomas were reported worldwide. The tumor on Harriet's tiny heart would eventually grow to the size of a walnut – nearly the size of her entire heart.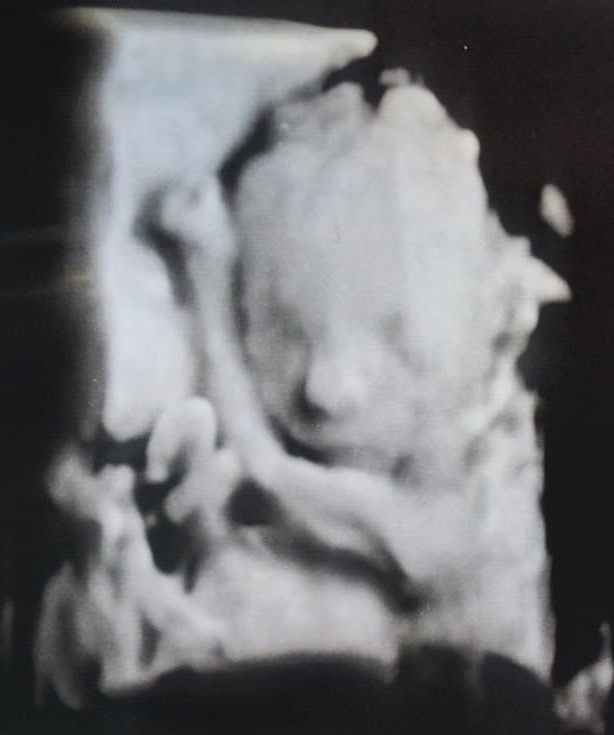 "They told us that there was less than a 40% chance of survival," Hannah recalled. "When we first got the diagnosis, it was a feeling of existential dread – you didn't know what was going to happen."
"We both walked to the doctor's office parking lot and cried and held each other," Josh explained.
The Kendrick family and Dr. Viteri wasted no time developing a care plan for Harriet. The physician quickly referred Hannah and Josh to the Midwest Fetal Care Center (MWFCC), a collaboration between Allina Health and Children's Minnesota. Hannah received her unborn baby's diagnosis on a Friday in Des Moines. She had her first appointment the following Tuesday in Minneapolis with the MWFCC's multi-disciplinary team of highly trained surgeons, physicians and maternal-fetal medicine experts.
The couple met with Dr. Lisa Howley, director of fetal cardiology at Children's Minnesota; Dr. Joseph Lillegard, the director of open fetal surgery at the MWFCC; and Dr. Saul Snowise, the medical director of the MWFCC.
"Meeting our 'dream team' for the first time immediately put me at ease and relieved some of my anxiety. The team gave an atmosphere of 'we've got this under control,'" Hannah explained. "We had a plan of action and the doctors we had are, without a doubt, some of the best in their respective fields. I was still terrified, and found it hard to believe at times what was happening was happening to me, but I was confident in our medical team."
Protecting Harriet's heart
Between January and April of 2022, Hannah and Josh made the four-and-a-half hour drive every week from their Iowa home to the MWFCC in Minneapolis. The meetings with Drs. Howley, Lillegard and Snowise included fetal echocardiograms to monitor Harriet's heart, an occasional fetal MRI, and developing a safe delivery plan. The family's care team in Des Moines also closely watched the growth of Harriet's heart tumor and the fluid levels around it.
"Harriet's tumor grew at a slower pace which is rare; the original treatment plan was to do an in-utero surgery," Hannah explained.
As Hannah's pregnancy progressed, the MWFCC team closely monitored baby Harriet's heart function and calculated how much blood it was pumping. At 32 weeks, the care team discovered a life-threatening development called hydrops fetalis. This meant Harriet had an abnormal amount of fluid accumulating in two or more compartments of her body which is a direct result of significant worsening heart failure. It was time to deliver and remove most of Harriet's walnut-sized heart tumor at the same time.
The MWFCC team delivered baby Harriet through what's called an EXIT procedure at 32-weeks into Hannah's pregnancy. The procedure is a complex c-section where Harriet's arms and chest are delivered first while her head and legs remain in the uterus and attached to her mom through the umbilical cord and placenta. The placenta provided essential oxygen, blood and nutrients to Harriet while Dr. Lillegard; Dr. Frank Moga, associate chief of cardiac surgery at Children's Minnesota; and Harriet's care team removed around 80% of the large tumor growing on her delicate heart. The rest of the tumor was removed later that night after the EXIT procedure.
"It's a medical miracle," Hannah said about the EXIT procedure.
The Kendrick's medical journey was just beginning.
Baby Harriet spent the first months of her life time in between Children's Minnesota's neonatal intensive care unit (NICU), infant care center (ICC), and cardiovascular care center (CVCC) in Minneapolis. Her parents were staying close-by at a local Ronald McDonald House. During this time, Dr. Moga and Dr. Lillegard performed an open-heart surgery to remove the rest of Harriet's heart tumor. Dr. Moga eventually performed a second open-heart surgery to repair a narrowing of Harriet's aorta where the tumor originated.
"We were there for three-and-a-half-months, and Children's Minnesota felt like home," Hannah said as she praised her family's care teams within each department.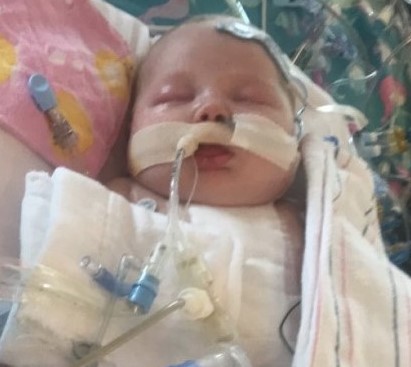 Baby Harriet is now 10 months old and home with her family in rural Iowa. Her road to recovery is long and includes more trips to Children's Minnesota for follow-up visits with specialists in cardiology, oncology and gastroenterology. She'll also need an echocardiogram on her heart every six months with the Children's Minnesota cardiovascular program until she's done growing.
"You wouldn't really know anything was wrong, her only hurdle now is she has some feeding difficulties," Hannah said about her daughter's recovery.
"She's beautiful and she's amazing – so are the doctors and the nurses that cared for her," Josh said.
"It's amazing to think a year ago we didn't know if we were going to have a baby, and here she is chatting away," reflected Hannah as her daughter made playful noises.
Harriet's family shares her story with KTTC-TV
The Rochester-based TV news station shared Harriet's story as part of its Kids with Courage segment. You can watch it here.