Ezra's story: Children's Minnesota's free breast pump loaner program supports premature baby's ability to thrive
The name Ezra has deep meaning for his mom, Nancy Guar, who chose her son's name because it means 'help' in Hebrew, or 'helper' according to Nancy. Little Ezra would need help himself very early in life after he was born two months early weighing just three pounds, seven ounces. His delivery at The Mother Baby Center, a partnership between Allina Health and Children's Minnesota, was followed by nearly a month of receiving care at the Children's Minnesota neonatal intensive care unit (NICU) and infant care center (ICC) at our Minneapolis hospital.
"It was actually a really good experience," Nancy recalled following her son's discharge from Children's Minnesota in July of 2023. "In The Mother Baby Center, the labor nurse I had was amazing. The NICU and ICC nursing staff – they have been really amazing."
Now home with Ezra, Nancy is not only reflecting on her family's clinical care journey –  she's also looking back on how a new program at Children's Minnesota helped her provide nutritious breast milk to her growing baby.
'It was a relief'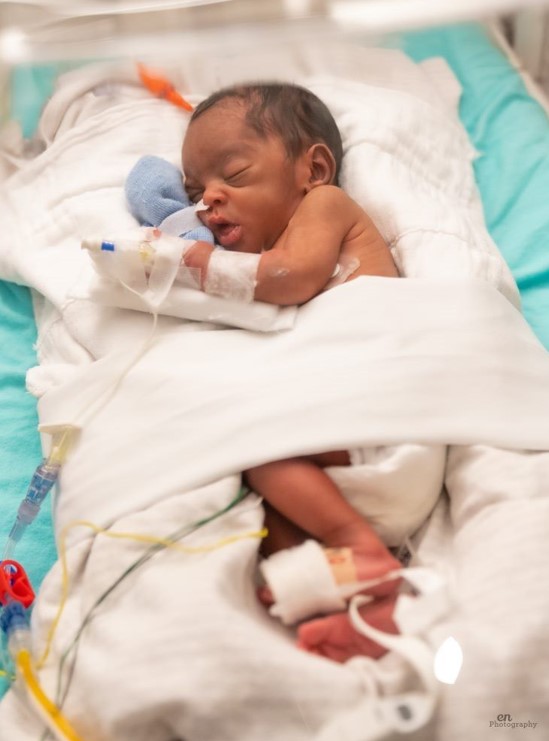 Like many new moms, Nancy started using an over-the-counter breast pump to provide Ezra with her own milk while the premature newborn was in the NICU and ICC and unable to breastfeed.
"Our pump at home was not doing much," Nancy explained. "And that's when a lactation consultant at Children's Minnesota told me about the program."
In 2023, Children's Minnesota launched its own breast pump loaner program, rather than offering new moms hospital-grade pumps via a third party vendor. Now, moms who qualify for the program can temporarily bring home a portable hospital-grade breast pump for free for up to four weeks at a time. Their baby must be in one of our hospitals to qualify for a pump.
Nancy said she was only pumping a minimal amount of milk using a non-hospital-grade pump. With the loaner pump from Children's Minnesota, she started pumping more milk than Ezra needed as a premature infant and she now has plenty of extra milk to meet Ezra's needs as he continues to grow.
"It was a relief," Nancy said. "The consistency compared with the higher-grade pump, I was able to pull the milk out more effectively – it helped me quite a bit."
Providing more equitable care
Children's Minnesota's lactation consultants saw a need for mothers across our diverse community to have more access to hospital-grade breast pumps. There are several reasons for this issue. For example, a mom may have already obtained a regular breast pump during a prior pregnancy from their insurance company, and it's common for insurers to only provide a pump every few years. For other moms, they do not anticipate having a premature baby, so they proactively order a regular breast pump and then later realize they need a higher-grade pump. For others, they do not have any opportunity to obtain a pump through insurance, so they are left paying out of pocket.
In addition to these challenges, most breast pumps are designed to support an already-existing milk supply. For many moms, it often takes a hospital-grade breast pump to successfully start a milk supply if the newborn is not breastfeeding for clinical reasons like being in the NICU. For those interested in using our program, they should know that the mothers who qualify for one of our medical-grade breast pumps are determined by our lactation consultants after other options to receive a pump through insurance are reviewed. In addition to meeting the inclusion criteria, the mother must also be actively pumping and committed to providing their own milk.  The pumps are loaned out for 28 days at a time. The pumps are required to be returned to Children's Minnesota by the end of the lease date or prior to the patient being discharged, whichever comes first, learn more. Ezra's mom returned her loaner pump in early July of 2023.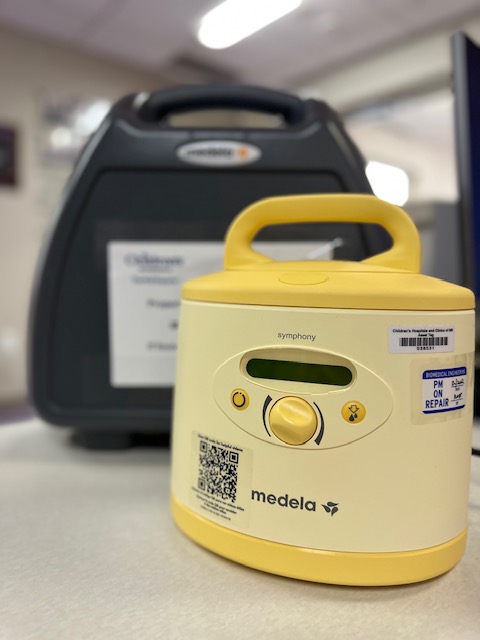 Baby Ezra spent 26 days in the Children's Minnesota NICU and ICC in Minneapolis. During that time, the hospital-grade pump quickly allowed his mom to both feed the newborn and store milk at our hospital for future use. He's now home with his mom and mostly breastfeeding. He'll soon undergo routine appointments at Children's Minnesota's NICU Follow-Up Clinic in Minneapolis.
"He's done pretty good – eating, sleeping and pooping," Nancy joked.
Nancy – the mom of the child whose name translates to 'help' – is now wanting to use her son's story to help others get a pump like the one she received at Children's Minnesota.
"Before I got the pump I was stressed out asking myself, 'how am I going to produce the milk?'" Nancy explained. "My goal was to give him my breast milk, it is such a great feeling knowing I could get him the milk."
Children's Minnesota's breast pump loaner program featured on health care podcast
Kirsten Provart, patient care supervisor of the lactation program at Children's Minnesota, appeared on the Becker's Healthcare Pediatric Leadership Podcast to discuss the Children's Minnesota breast pump loaner program. You can listen to the podcast here.