Hydrocephalus creates 'new meaning to life' for little Noa and her family
On May 22, 2020, Lindsay and Taylor Marcus welcomed their second daughter, Noa, into the world at a hospital outside of the Twin Cities. Their baby's birthday was during a time of uncertainty. As the entire world grappled with the first waves of the COVID-19 pandemic, the Marcus family personally endured through the concerns of baby Noa being born nine-weeks premature – and with a brain bleed.
The newborn's brain bleed eventually started to improve. But, Noa's mom said the family would soon learn about a clog in the baby's brain that created an alarming amount of fluid. This diagnosis is called Hydrocephalus. It's a condition where a buildup of cerebrospinal fluid occurs within the hollow places inside the brain, called ventricles, that can put a dangerous amount of pressure on a child's developing brain.
"We were devastated, it's not what you expect," Lindsay recalled. "We didn't know we would have her early, then we find out she had a severe brain bleed, then hydrocephalus, it's overwhelming – we wanted to make sure we were making the best decisions for our daughter and make sure she got what she needed."
Arriving at Children's Minnesota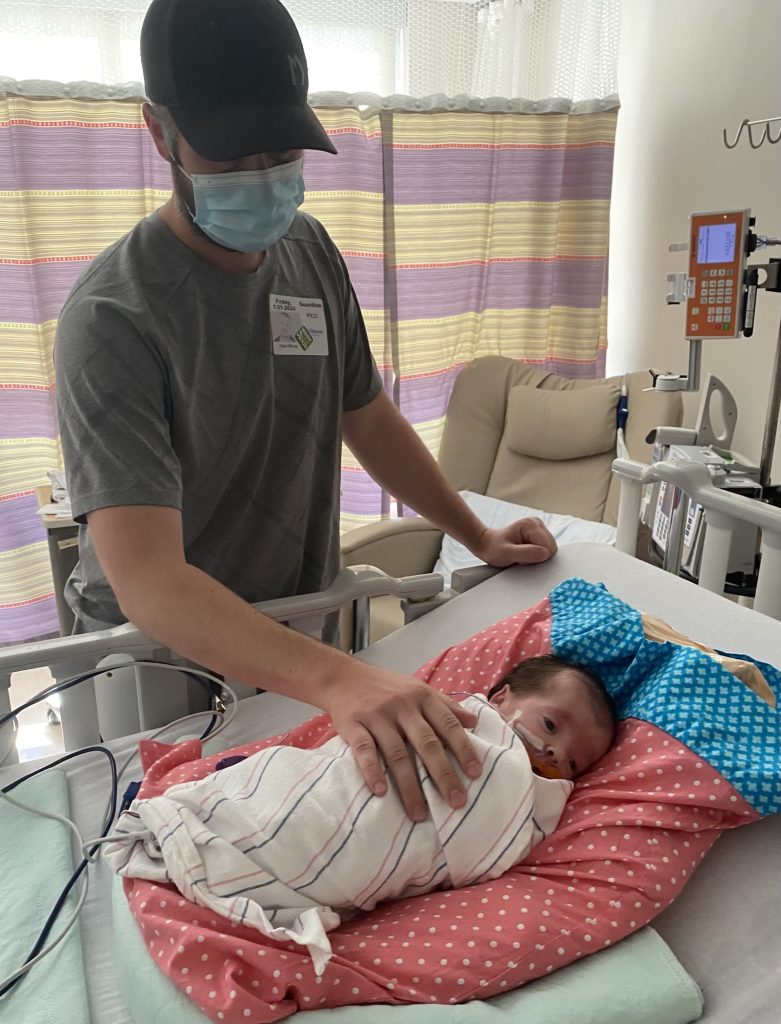 After spending 10 weeks in the central Minnesota hospital where Noa was born, the Marcus family decided to transfer their daughter to Children's Minnesota. Within 24 hours of arriving to our Minneapolis hospital, the family met with pediatric neurosurgeon Dr. Mahmoud Nagib and the Children's Minnesota neurosurgery team.
"We chose to go to Children's Minnesota based on a recommendation from friends whose child has a similar diagnosis and received care there," Lindsay explained.
Baby Noa received care in both the Children's Minnesota Pediatric Intensive Care Unit (PICU) and infant care center (ICC). During this time, Dr. Nagib performed a brain surgery procedure to implant a special device into baby Noa's brain to help drain and manage the excess spinal fluid.
"I was just impressed with how the processes went and how much Noa's clinical team included my husband and I in her care, they focused on our whole family," Lindsay said while also highlighting how Children's Minnesota's Child Life department comforted her entire family during such a difficult time.
After spending six weeks at Children's Minnesota, baby Noa was discharged. Unfortunately, the time at home in rural Minnesota would not last long.
Baby Noa spent just one week at home before the fluid building in her brain forced the family to return to the Children's Minnesota PICU in Minneapolis. There, the Marcus family learned Noa would need another procedure.
"We were just really worn out at that point, but we also wanted to get control of the hydrocephalus and have relief," Lindsay explained.
In the operating room, Noa's neurosurgeon placed a special tube, called a shunt, from her brain's ventricles to the space inside her belly where the stomach and the bowels sit. The tube was placed under Noa's skin and allows the extra cerebrospinal fluid to be absorbed into her bloodstream.
The infant had the delicate procedure performed on Sept. 4, 2020. Since then, Noa has not had another surgery or hospital readmission for three years – and counting.
"We just felt like once we got to Children's Minnesota that they took care of us and gave us a lot of hope," Lindsay said. "We're so thankful for the hospital and staff that carried us through the hardest part of our life."
Learn more about the Children's Minnesota neurosurgery program.
September is Hydrocephalus Awareness Month. To give back and raise awareness, the Marcus family is helping organize on behalf of the Hydrocephalus Foundation the 2023 Twin Cities WALK to End Hydrocephalus. The event spreads awareness and raises money to help develop new treatment options for this uncurable condition. Children's Minnesota is a sponsor of the 2023 walk taking place in Burnsville, Minnesota on Saturday, Sept. 9.
Continued care
Noa is now three years old and walking on her own at home with the help of orthotics.
"She's just a very independent, funny girl with a great personality and sense of humor," Lindsay said.
Since the procedure in 2020, the Marcus family learned Noa also has cerebral palsy and periventricular leukomalacia (PVL). PVL is an injury to the white matter of the brain surrounding the ventricles. She'll continue to undergo MRIs to monitor her brain development and receive follow-up care with her neurosurgery team, local neurologist and physical therapist.
"Her neurologist is shocked with how well she's doing," Lindsay proudly said.
Noa's mom is also sharing these touching words for families going through a similar care journey as her brave daughter.
"Parents need to find joy in their child and celebrate every milestone," Lindsay shared while holding back tears. "Even though it may not be what you're expecting, the milestones each child has, it gives you new meaning to life knowing what's important in life."