Levi's

legacy: One family raises over $27

,000

to help others through

cancer treatment
The Franklin family of five lives on a small lake in Chanhassen, Minnesota where they love to play outside on the lake swimming and boating. But, their lives changed when the baby of the family, Levi, was diagnosed with acute lymphoblastic leukemia (ALL) at just 21 months old.
Levi's cancer diagnosis
When Levi was almost 2 years old, his parents, Amy and Corey, noticed he wasn't gaining weight, so they scheduled a weight check with Levi's pediatrician. A few days before that, Amy started noticing some small bruising on Levi in addition to swollen lymph nodes. Concerned, Amy Googled his symptoms and found some scary results, making them fairly nervous for the upcoming appointment. 
While at the weight check appointment, their pediatrician noted that in addition to the other symptoms, Levi was also very pale which was concerning, so labs were ordered.
As the Franklin family pulled into their driveway after the appointment, they got a call – the pediatrician advised them to take Levi to Children's Minnesota's emergency room right away because he more than likely had cancer. "It was the worst afternoon of our lives," Amy recalled.
Levi's treatment
The next few days for Levi and his family were a whirlwind. "Children's [Minnesota] was amazing through it all," said Amy. "We knew by the end of the night that it was leukemia, and by the next morning we knew what type of leukemia it was – ALL."
Amy and Corey signed Levi up to be part of a chemotherapy treatment study. Levi needed surgery to have his port implanted to help with his treatment. Quickly after that, he started chemotherapy.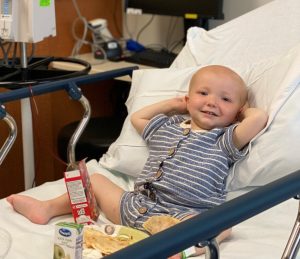 "His care team was wonderful," Amy said. "We couldn't have imagined a better support network for everything we had to deal with." 
Levi's treatment totaled 845 days, almost two and a half years. He spent 40 days inpatient at the hospital over a total of eight visits. He had countless transfusions, spinal taps and was on multiple medications. But, he stayed strong through it all. "Levi has done everything with grace and absolutely unheard of maturity," Amy said.
With the number of times they were at Children's Minnesota, the Franklin family got to know the staff well. "They were able to alleviate a lot of our concerns and the hardships we had, which allowed us to focus on caring for Levi," said Amy. "Dr. Lane Miller, our primary oncologist, was a very comprehensive, knowledgeable and fantastic director of Levi's care plan, as well as his entire care team and beyond."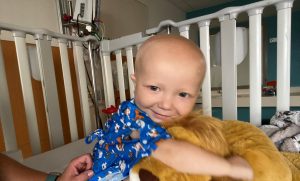 They were grateful for the expert care Levi received. "The care team, the staff at Children's Minnesota, Child Life, the nurses, everyone was just so helpful, so wonderful," Amy recalled. "There are things you didn't know you needed support and guidance with, and they'd be there helping with it." 
The Franklin family's fundraiser: Levi's legacy
To help other families experience the joy of beating cancer, the Franklins are giving back. "We want to see something good in the world come from this tumultuous time in our lives," described Amy." We've been surrounded with such love and support, and we want to extend that to other cancer families in our area." 
So, they hosted a fundraiser for Children's Minnesota. They invited all of their loved ones that helped them through this hard time in their lives to a party to celebrate Levi finishing treatment and to thank everyone who was there for them. 
They have raised over $27,000 for the Cancer Kids Fund at Children's Minnesota, which will help other families fighting cancer with everything from our Sibling Play Area to therapies like art and massage. It also covers a family's everyday expenses such as meals and parking and, when needed, big things like mortgage payments. The fund also supports research to find new, better treatments.
Levi today
Today, Levi is 4 years old. He loves to read and play with toys and cars. "He's got a bit of a stubborn streak coming in, he's convinced he's the boss," laughs Amy. "He's a sweet, funny, smart kiddo."
Levi loves to swim and wrestle with his siblings. Plus, he's looking forward to attending preschool this year. "He's living a pretty normal 4-year-old life, which we are so thankful for," said Amy. 
Levi's family is hoping to hit a milestone of $35,000 raised for the Cancer Kids Fund by Give to Kids Day on Sept. 14, 2023. Give to Kids Day is a 24-hour fundraiser Children's Minnesota is hosting to raise funds for kids fighting cancer and blood disorders. 
Learn more and donate here.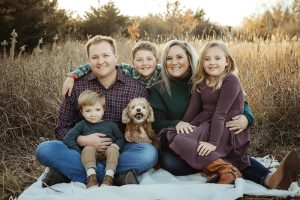 Shine Bright for Kids is a fundraiser for the cancer and blood disorders program at Children's Minnesota, which cares for more than 3,500 kids— from babies to young adults — every year. Your support can make a difference for patients living with Hodgkin's lymphoma, like Riley. Your gift supports everything from special therapies to life-saving research to mortgage and rent relief.
Donate now at childrensmn.org/shinebrightforkids.
Alexandra Rothstein