The pandemic is changing everything. But it's not stopping the fight against cancer. Throughout September, the community is invited to join the fight by supporting the Cancer Kids Fund at Children's Minnesota.
Thank you to all of the partner businesses and community members who supported us in 2020. You help us provide everything from music therapy to life-saving research to end-of-chemo celebrations. Together, we'll make every day brighter. For the most amazing people on Earth.
Harper's story
Early on in 2020, her family started noticing some concerning symptoms. Harper would have a fever on and off for weeks. Her legs hurt so badly that she'd have trouble walking and would limp. Her parents, Marissa and Nathan, took her to urgent care several times to try and figure out what was wrong. In February, the family received a devastating diagnosis – Harper had acute lymphoblastic leukemia (ALL). Read Harper's full story »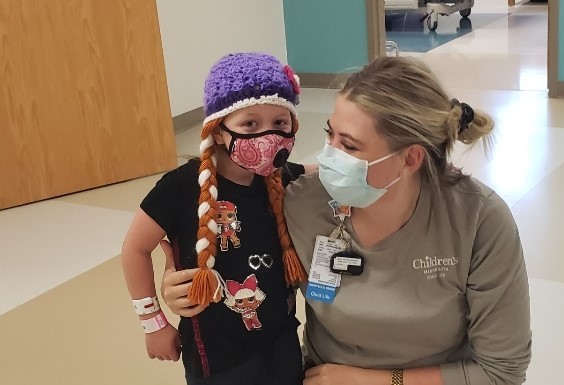 Mia's Story
Cancer changed Mia's life. But it didn't break her spirit. Diagnosed with a spinal tumor (Ewing's sarcoma) at age 11, Mia spent 10 months at Children's Minnesota and endured 14 rounds of chemo. Through the hardest days of her life, she stayed positive, thanks to the support of her nursing team, music therapists, child life specialists and, best of all, visits from our therapy pets. Read Mia's full story »
RaZyia's story
RaZyia was just 5 years old when she began complaining of leg pain so intense she couldn't walk on it or even sleep. Concerned, RaZyia's mom, Aminga, took her to the Children's Minnesota St. Paul emergency department. After a day in the hospital, the doctor sat down with RaZyia and Aminga and shared the devastating news — "We think it's cancer." Read RaZyia's full story »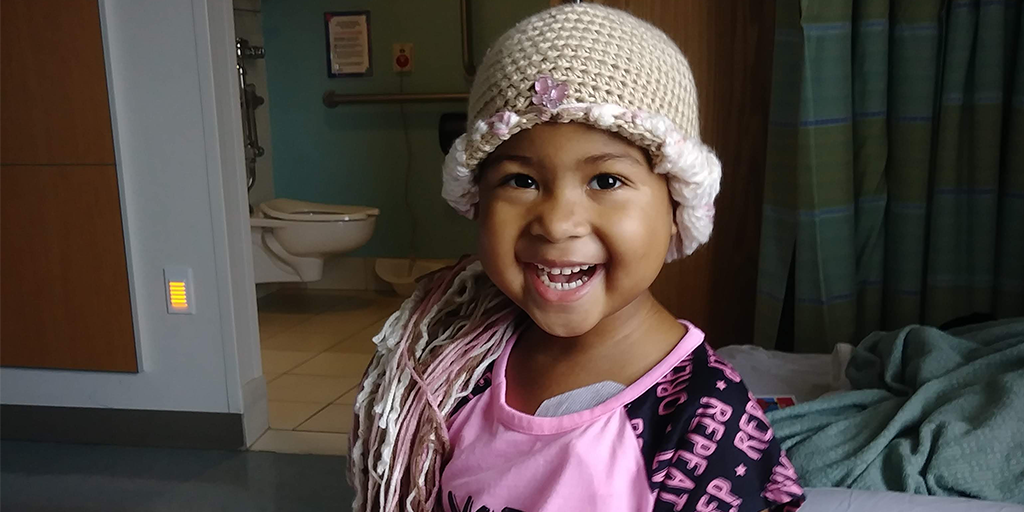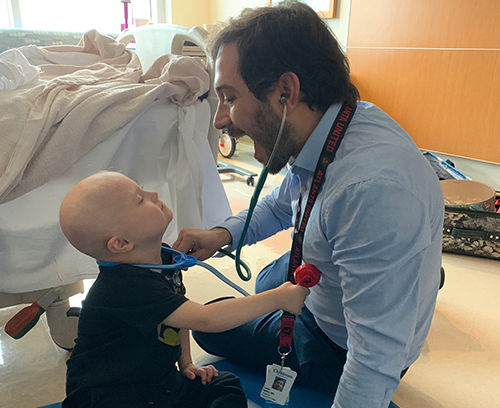 Oliver's Story
The day Oliver's family found out he was cancer free was a big day of celebration and happy tears. When Ashley described the moment they found out – she said, "I screamed and started crying. The nurse and the oncologist started crying, too. We all hugged and celebrated together." Ashley and her family are so grateful for the care they continue to receive at Children's Minnesota. Read Oliver's full story »
Jordyn's Story
24-year-old Jordyn Meskan is a proud North Dakota State University graduate—achieving a degree in civil engineering and a minor in Spanish. She is an active volunteer with Engineers Without Borders, works as a full-time civil engineer, and is a ski instructor. And on top of all of that, still finds time to garden, rock climb and watch Bison football. Needless to say, she wasn't going to let a cancer diagnosis get in the way of her busy life. Read more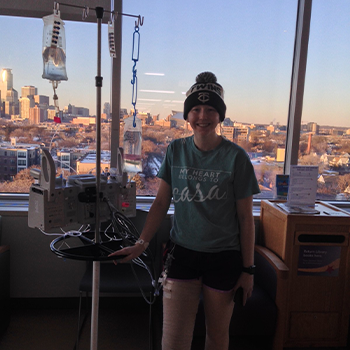 Joy and Hannah's Story
It's difficult enough learning about one medical diagnosis for a child, but for the Hardy family, their youngest two daughters were diagnosed with two different illnesses within the same month. Shortly after giving birth to her third daughter, Hannah, Evelyn Hardy found out that the family's newest member was born with sickle cell disease, a genetic blood disease. Soon after that, her second youngest daughter, Joy, who was only a year-and-a-half at the time, was diagnosed with acute lymphoblastic leukemia (ALL). Read their full story
How to get your business involved
Be part of Shine Bright for Cancer Kids next September by providing special discounts or promotions to help us raise money for the Cancer Kids Fund at Children's Minnesota. How your business gets involved is up to you — you could do a point-of-sale round-up donation or matching-funds gift. Complete this campaign proposal form to participate »
Donate to the Cancer Kids Fund
Donate directly to the Cancer Kids Fund to help kids and their families cope during an extraordinarily difficult time.
About the Cancer Kids Fund
Children's Minnesota cares for most of the children diagnosed with cancer in Minnesota.
And this year, more than ever, kids with cancer and blood disorders rely on the safe, effective, compassionate care Children's Minnesota provides. Our Cancer Kids Fund allows us to not only provide the best-in-class care, but also important extras that alleviate stress and help with healing like:
Shop. Eat. Drink. Fight Cancer.
Thank you to the businesses who are part of this year's Shine Bright for Cancer Kids campaign to support children fighting cancer and blood disorders. See details below of the promotions and offers provided by 30+ participating businesses.